Tuesday, September 21, 2021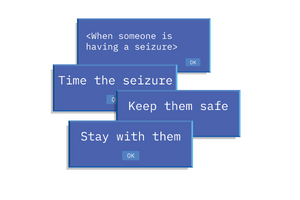 A new module on seizures has been added to the HSE's eLearning platform HSeLanD.
HSeLanD contains over 200 eLearning programmes that is only available to HSE professionals.
The new module on seizures is very much welcomed and will provide education and awareness on two key aspects of seizure management for healthcare professionals:
Observing and recognising seizures
Responding to seizures
The module explains the different types of seizures and uses a range of case study scenarios to explain the do's and don'ts of responding to a seizure. It also addresses toopics such as when to escalate teh response, call an ambulance, seizure-related risks and recording triggers.
We encourage all professionals involved in the care of people with epilepsy to complete this short course. It is an excellent new addition to the HSE platform and we have no doubt that the tools will lead to a wider understanding & knowledge of epilepsy.
Thank you to all the Epilepsy Specialist Nurses for their work in developing the programme - Cora Flynn, Ann Connolly, Cara Synott, Sinead Murphy and Yvonne Owen. 
Do you know how to respond to a seizure?
If you're not a HSE professional, please check out our #TimeSafeStay campaign from earlier this year or download our first aid posters.