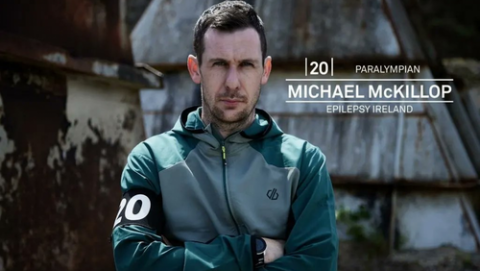 This week sees the return of RTÉ One's Ultimate Hell Week and Epilepsy Ireland have a vested interest in the series this year!!
That is because we will be represented on the show by Dr. Michael McKillop MBE!
Michael is a 4 time Paralympic Gold medallist and 9 time world champion – and also a person with epilepsy.
When approached to take part in the show, Michael decided he wanted to take part in support of Epilepsy Ireland – to raise awareness of epilepsy and funds for our organisation. Ultimate Hell Week sees well-known faces and celebrities attempt to pass a condensed version of special forces selection.
Recently, Michael experienced a breakthrough seizure after a period of seizure freedom for over ten years. Many people reading this will know first-hand about how challenging an experience like this can be. Following the seizure, Michael took to social media to raise awareness of epilepsy and the importance of knowing seizure first aid. You can watch his video below:
We would like to wish Michael the best of luck and we hope you will join with us in cheering him on when the show airs!
Ultimate Hell Week begins on RTÉ One on Wednesday 7th September at 9:35pm. You can read more about the show by visiting the RTÉ website.
To donate to Michael's incredible efforts in support of our work, visit the 'Donate' section of our website. If you would like to learn more about how to respond to a seizure, visit the 'Seizure First Aid' section of our website.