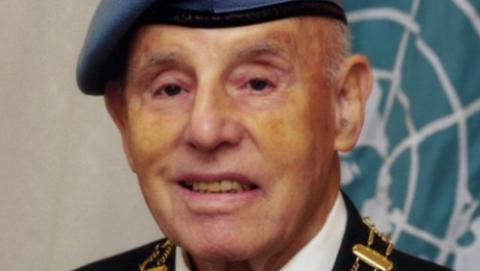 It is with great sadness that we learned of the passing of former Epilepsy Ireland board member, Major General Vincent Savino Retd. on Sunday evening.
Vincent was a long serving board member and volunteer with Epilepsy Ireland and served as Honorary President for many years.
He originally became involved with the organisation in the 1980s, due to the fact that a close family member lived with the condition. He was instrumental in developing fundraising activities needed to support the work of the charity in the 80s and 90s, and was a source of great wisdom, sound judgement and strategic clarity during his time on our board of directors.
He was a regular visitor to our offices and maintained a strong interest in all aspects of our work until recent times, when declining health took its toll.
As his title suggests, Maj Gen Savino had a distinguished military career, rising to the most senior ranks in Óglaigh na hÉireann where he served on many UN assignments including in the Congo, Lebanon and Cyprus. In retirement from the Army, he established the Irish UN Veterans Association and served as its President for many years. He was also a keen and successful sportsman and maintained a lifelong interest in cricket as a player, coach and later in developing coaching in Ireland. He also established and ran a fitness class at Marino College for over 50 years, and helped to set up Volleyball Ireland.
'Vinny' was an extraordinary man, a gentleman held in great esteem by all who came to know him through Epilepsy Ireland and he remained throughout his life a wonderful ambassador for the condition. We will miss his commitment to the cause, his always sound advice, and above all, his wit and positive outlook.  
Our thoughts are with Vinny's family and many friends and we send our sincere condolences to his wife Kate, children Gina, Anna, Rosa, Caterina, Elena and Franz.
 Major General Vincent Savino Retd - Ar dheis Dé go raibh a anam.