Wednesday, October 24, 2018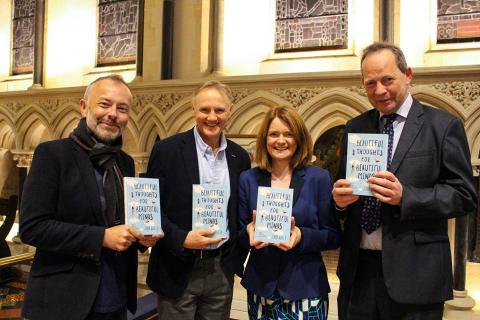 Ireland Rugby Coach Joe Schmidt made a surprise appearance along with his wife Kelly at the book launch of 'Beautiful Thoughts For Beautiful Minds' in St Patrick's Cathedral yesterday evening. Also in attendance was Epilepsy Ireland Patron, Rick O'Shea.
Author John Scally was inspired by Joe to write the book which is an uplifting collection of pieces that are sure to leave a positive impact in the minds of readers. Miriam O'Callaghan writes the foreword, saying, "I hope your beautiful minds will take inspiration and comfort from these beautiful thoughts."
John Scally succeeds in creating a book that gives you a sense of comfort and ease as you read through. Scally uses his own personal experiences growing up in Roscommon to illustrate how any small moment in life can be turned into something that can bring you comfort and peace.
Throughout the book, Scally helps us all to see the joy in life through a variety of sections aimed at lifting our spirits. Besides his own personal reflections, Scally adds a collection of tales to make you laugh, pieces showing the lighthearted, fun side of religion and personal interviews/thoughts of notable people like Mother Teresa, Nelson Mandela, Desmond Tutu, and others.
This book is great for anyone looking for more positivity in life when there is not much to be found, anyone looking for a collection of feel-good stories, or simply anyone wishing for a book to make them smile.
Ready to start reading these beautiful thoughts? Buy yourself a copy of Beautiful Thoughts for Beautiful Minds today!
The book is priced at €14.99 and can be bought here.
All royalties from the book will go to Epilepsy Ireland.
Pictured above: Rick O'Shea, Joe Schmidt, Mags Gargan (Columba Books) and Auhor, John Scally.