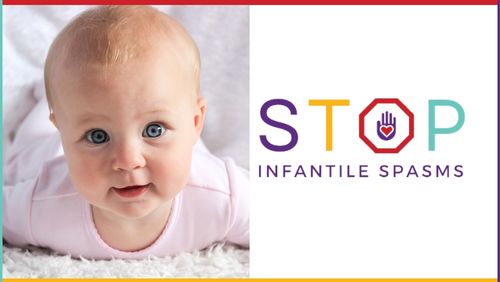 06 Dec 2022
As part of Infantile Spasms Awareness Week 2022, Epilepsy Ireland have arranged a special information session on Infantile Spasms with Dr. Mary O'Regan.
Dr. O'Regan is a Consultant Paediatric Neurologist at Children's Health Ireland, Crumlin and has a special interest in paediatric epilepsies.
As part of this session, Dr. O'Regan will provide clinical insights and perspectives regarding Infantile Spasms – a rare but extremely serious type of seizure which if untreated, can have a devastating long-term impact on a child's developing brain.
Infantile Spasms can present very subtly – and they are often misdiagnosed or overlooked – so it is crucial that new or expecting parents and Healthcare Professionals are aware of the signs in order to STOP Infantile Spasms.
Dr. O'Regan will address several key points as part of this information session – including showing examples of how Infantile Spasms can present; what you should do if you suspect a child is experiencing Infantile Spasms; as well as clinical insight on the diagnostic process and treatment of Infantile Spasms. As part of the webinar, there will also be an opportunity for questions to be put to Dr. O'Regan about Infantile Spasms
Please join us on the night to learn more about Infantile Spasms and build awareness in Ireland. Should you have any questions about this event, please email Tara on tsmith@epilepsy.ie.
We look forward to welcoming you on the night!
WHEN: Tuesday December 6th at 7:00pm
WHERE: Your home, via Zoom!
WHO: This event is particularly targeted at new parents; expecting parents and Healthcare professionals. However, the event is open to all in an effort to build awareness about Infantile Spasms.
REGISTRATION: To register for this event, visit our zoom registration page.
For further information on Infantile Spasms, please visit the 'Infantile Spasms' section of our website.