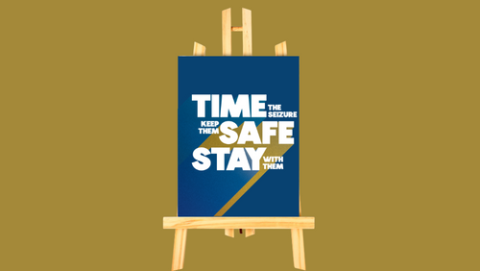 To coincide with International Epilepsy Day, our colleagues in the International Bureau for Epilepsy(IBE) are hosting an online art exhibition centred on the theme of stigma associated with epilepsy.
We know that stigma and misconceptions around epilepsy are still common and can have a negative impact on the lives of those living with the condition – which is why days like International Epilepsy Day are so important in our calendar to help increase understanding and awareness.
As part of our activities for #EpilepsyDay, we appeal for people to contact us with their stories of life with epilepsy – be it in writing or video. However, we recognise that this type of awareness raising may not be something everyone living with the condition is comfortable with and others may wish to provide a snapshot of their journey with epilepsy through an artistic platform. This online exhibition launched by the IBE is another avenue to allow people to share their stories.
Entries are being sought for the following categories and must be submitted by Wednesday 8th February 2023:
Painting or drawing
Photomontage
Pottery
Sculpture
Beadwork, embroidery, or needlework
We would love to see a number of entries from Ireland featured as we know there are so many creative and artistic people living with the condition. If you would like to submit a piece to be featured, you can do so on the entry form on the International Epilepsy Day website.
As well as submitting your entry on the International Epilepsy Day website, we'd also appreciate if you could forward your entry to Epilepsy Ireland directly by emailing our Advocacy & Communications Manager, Paddy McGeoghegan, on pmcgeoghegan@epilepsy.ie.
We look forward to seeing your creative pieces! For further information on #EpilepsyDay 2023, our plans for the day, and how you can help support our awareness raising efforts, visit the 'International Epilepsy Day' section of our website.