Wednesday, February 3, 2016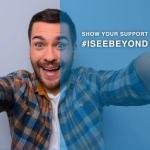 Epilepsy Ireland and Headway have joined forces today to launch an innovative new public awareness campaign called I See Beyond  (#iseebeyond). The campaign focuses on raising awareness of hidden disabilities like epilepsy and acquired brain injury and the challenges these conditions can present in day to day life. It was officially launched this morning by the Minister for Health, Leo Varadkar TD.
The Minister was the first person to show his support of #iseebeyond on his own social media pages today, and called on members of the public and businesses in Ireland to follow suit by visiting www.iseebeyond.ie where anybody can create their own free personal icon for Facebook or Twitter.
Speaking at the launch, the Minister said "I am very happy to support the 'I See Beyond' message. I think it's a very important one. It's time for all of us to take a long overdue step towards a more inclusive society, and the best way to do that is through education. A national survey on attitudes to disability by the National Disability Authority in 2011 showed that attitudes to people with disabilities have improved enormously, but less so for hidden disabilities such as epilepsy or acquired brain injury.
"The stories being told as part of the I See Beyond campaign should touch the public consciousness and help to bring about a more compassionate response. I'd encourage everybody to get behind this campaign and get the conversation going. It doesn't cost anything, and it only takes a few seconds of your time to show support on social media. But the difference you can make is invaluable."
Epilepsy Ireland Patron Rick O'Shea attended this morning's launch. He said "I'm proud to help launch this campaign with Epilepsy Ireland and Headway. I strongly believe hidden conditions such as epilepsy should get the awareness they deserve, and #iseebeyond will definitely shine a light where it's needed.
"From personal experience, I can say it's so important for people to understand what living with something as hidden as epilepsy can mean and entail. Once the fear is gone, so too will the stigma around it and feelings of exclusion, which, sadly can often occur for people who have a hidden condition. I'd love if as many people and companies as possible could get behind this campaign and show their support on social media. We should all do our bit to get the discussion going."
Despite the prevalence of hidden disability, a national survey conducted recently by Amárach Research for Headway and Epilepsy Ireland revealed an overwhelming lack of awareness of hidden disabilities. For example, 7 out of 10 respondents admitted they did not know the meaning of the term 'hidden disability', while a similar number said they would not feel comfortable telling their employer that they had a hidden disability.
Support the Campaign: