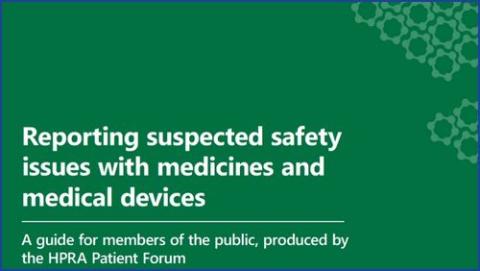 The Health Products Regulatory Authority (HPRA) have recently published a useful guide for members of the public on reporting side-effects & safety issues from medications and medical devices.
The HPRA protects and promotes public health by making sure that health products meet safety and quality standards. Its role is to watch over the safety of medicines and medical devices, and to check new information that becomes available.
The guide has been produced following engagement with the HPRA Patient Forum – of which Epilepsy Ireland is a member – to help encourage the reporting of potential side effects and safety issues amongst the wider public.
From an epilepsy perspective, many people living with the condition will be aware that Anti—Seizure medications can carry side effects. However, by reporting these to the HPRA, it can help build a stronger knowledge base around a medication; whether the side-effects can be addressed by the manufacturer; and can help to inform future patients about potential side effects which they may face. Knowing in advance that a medication can have a certain impact can be helpful for the person beginning that course of treatment so they can be aware of it, and potentially take action to ease the impact of the side effect.
The new guide can be read and downloaded at the end of this article – while the key details of it have also been incorporated into the 'Side effects' section of our website.
We would like to thank the HPRA for working with all members of the Patient Forum to produce this guide in order to help further promote the importance of reporting side effects amongst the wider public. We look forward to continuing our work with the HPRA as part of the Patient Forum,  and on other issues which are facing people with epilepsy and their families.