Friday, November 30, 2018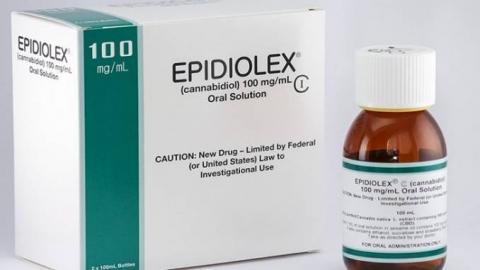 GW Pharmaceuticals has announced positive top-line results of the second randomized, double-blind, placebo-controlled Phase 3 clinical trial of EPIDIOLEX® (cannabidiol or CBD) CV in the treatment of seizures associated with Dravet Syndrome. In this trial, EPIDIOLEX, when added to the patient's current treatment, achieved the primary endpoint of reduction in convulsive seizures for both dose levels (10 mg/kg per day and 20 mg/kg per day) with high statistical significance compared to placebo. Both EPIDIOLEX doses also demonstrated statistically significant improvements on all key secondary endpoints.
"The positive outcome in this second trial of EPIDIOLEX in patients with Dravet syndrome further reinforces the effectiveness of this newly available medicine in this particularly difficult to treat, childhood-onset epilepsy," stated Ian Miller, M.D., Director, Epilepsy and Neurophysiology Program at Nicklaus Children's Hospital in Miami, FL and principal investigator of the trial. "The totality of data from the controlled clinical trials completed for EPIDIOLEX have shown clinically meaningful seizure reductions and a consistent safety and tolerability profile. I am excited that this recently approved and important new treatment option is now available for my patients."
"The positive results from this trial follow the recent FDA approval, DEA rescheduling and U.S. launch of EPIDIOLEX for the treatment of seizures associated with Dravet syndrome and Lennox-Gastaut Syndrome in patients two years and older. These data show an effective dose range in Dravet syndrome that is consistent with our FDA approved label, and which allows for dosing flexibility to address individual patient needs," stated Justin Gover, GW's CEO. "We are proud to have recently launched EPIDIOLEX, the first FDA-approved plant-derived cannabinoid medicine and are excited about its potential to help the lives of patients and their families."
"This new important EPIDIOLEX data is good news for the Dravet syndrome community and offers further scientific evidence for this newly available therapy," said Mary Anne Meskis, Executive Director of the Dravet Syndrome Foundation. "As the first FDA-approved medicine for patients with Dravet syndrome, EPIDIOLEX offers hope to individuals who previously had few options available to effectively control their seizures."
"The positive results from this latest EPIDIOLEX clinical trial are very encouraging for those living with intractable seizures caused by LGS and Dravet syndrome, two extremely difficult treatment-resistant forms of epilepsy," said Philip M. Gattone, president and CEO of the Epilepsy Foundation. "This trial increases the body of scientific evidence to support the only FDA-approved cannabidiol therapy and provides hope to the most vulnerable individuals in our epilepsy community who are trying to gain better seizure control. We thank GW and all our partners who invest in a better tomorrow for people with epilepsy."
Trial Overview and Results
Patients aged 2-18 years with a confirmed diagnosis of drug-resistant Dravet syndrome currently uncontrolled on one or more concomitant anti-epileptic drugs (AEDs) were eligible to participate in this Phase 3, randomized, double-blind placebo-controlled trial. The trial randomized 199 patients into three arms, where EPIDIOLEX 20 mg/kg/day (n=67), EPIDIOLEX 10 mg/kg/day (n=67) or placebo (n=65) was added to current AED treatment. On average, patients were taking three AEDs, having previously tried and discontinued on average, four other AEDs. The average age of trial participants was nine years (range 2-18). The median baseline convulsive seizure frequency per month was 12 and the median baseline total seizure frequency per month was 35. 
The primary endpoint of the study was the change in convulsive seizure frequency over the 14-week treatment period (2-week titration followed by 12-week maintenance at the target dose) compared to baseline. During the treatment period, patients taking EPIDIOLEX 20 mg/kg/day demonstrated a 46 percent reduction in convulsive seizures while patients taking EPIDIOLEX 10 mg/kg/day achieved a reduction of 49 percent, compared to a 27 percent reduction in patients taking placebo (p=0.0299 and p=0.0095 respectively). Results from the key secondary efficacy endpoints (reduction in total seizures, ≥50% responder analysis, and Caregiver Global Impression of Change) also showed statistical significance of both dose groups of EPIDIOLEX compared to placebo. In the EPIDIOLEX 20 mg/kg/day group, 49 percent of patients achieved a 50 percent or greater reduction in convulsive seizures from baseline over the treatment period, compared to 44 percent of patients taking EPIDIOLEX 10 mg/kg/day, and 26 percent of patients taking placebo (p=0.0069 and p=0.0332 respectively).
The currently available safety data from this trial are consistent with the previous Phase 3 clinical trials. As described in the US prescribing information, the most common adverse reactions in patients receiving EPIDIOLEX (≥10% and greater than placebo) include somnolence; decreased appetite; diarrhea; transaminase elevations; fatigue, malaise, and asthenia; rash; insomnia, sleep disorder and poor-quality sleep; and infections.
Detailed findings from this clinical trial will be reported at a future medical conference and subsequently published in a medical journal.
The EPIDIOLEX clinical development program now includes four randomized, controlled Phase 3 clinical trials in Lennox-Gastaut Syndrome and Dravet syndrome (N=715) and an open-label extension study. The three previously completed Phase 3 studies have been published in The New England Journal of Medicine, and the Lancet. EPIDIOLEX represents the only development program of a plant-derived cannabinoid medication leading to FDA approval.