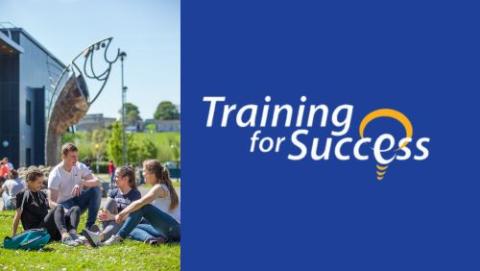 For the first time in almost 25 years, we will be looking forward to the future without Training for Success (TFS) as part of our service.
'Training for Success' first began in 1998 and was specifically targeted at people living with epilepsy whose education or employment prospects may have been impacted by their condition. The course offered participants an opportunity to develop their skills for entry into the workforce or further education – skills which may not have been developed fully due to their epilepsy – for example, due to frequent hospital visits for teens during their secondary school years. The course found it's home in IT Sligo, now Atlantic Technological University Sligo, and grew to become a QQI Level 5 accredited course which acted as a springboard for so many people with epilepsy to pursue further education or enter the workforce.
TFS was the only course of its kind in Europe and in 2013, was recognised via the STAR awards, which awards invaluable collaborative work undertaken by adult learning initiatives. In 2021, current course Manager Maire Tansey, won a European Federation of Neurology Associations Advocacy (EFNA) Advocacy Award for her and the course's work in action against stigma.
While we are sad to be saying goodbye to something which has been a fixture of our service for so many years, it is heartening to think that we live in a much different society than that when TFS first began in 1998.
There is now an abundance of different adult learning education courses available across the country; and while there is still work to be done, there is a much more inclusive structure in third level institutions which can help assist people with epilepsy to pursue their chosen course. In addition, attitudes to epilepsy have shifted dramatically over the past two decades – perhaps best seen in a finding from a public awareness survey we did last year in which 80% of respondents said they did not view epilepsy as being a barrier to the workplace.
These societal changes and availability of a wider array of courses has seen interest in Training for Success falling over the last number of years. In addition, recent changes with IT Sligo becoming a Technological University would have seen the course change significantly, losing some of it's most unique aspects. While it is ultimately a difficult decision to say goodbye to something which we know has had such a positive impact on people's lives, we are confident this is the correct decision with Course Manager, Maire Tansey, who has been part of the TFS team for over 20 years commenting:
It is sad to see TFS ending but it is a positive. Attitudes have changed, as has the availability of other opportunities for people with epilepsy – opportunities which did not exist back in 1998. We can all be proud of the impact the course has had; and the changes it has helped bring about for people with epilepsy across Ireland. Training for Success was ultimately a success itself, and leaves behind a fantastic legacy."
While TFS may be ending, it will lead to another aspect of our existing service being further enhanced. When TFS officially ends, Maire will be moving to a new role within Epilepsy Ireland which will lean on her 20+ years of supporting people with epilepsy. Maire will join Epilepsy Ireland's training department – adding a vital extra resource to a much depended on service. Since 2009, Epilepsy Ireland have offered Training in Epilepsy Awareness and the Administration of Buccal Midazolam. The delivery of this course has been co-ordinated by our Training and Quality Manager and supported by our Community Resource Officer team. From its humble beginnings, approximately 3,000 professionals are now being trained by Epilepsy Ireland every year. With Maire joining the team, we hope that the extra capacity will lead to more numbers trained, more sessions delivered and ultimately an increase in the understanding and awareness of epilepsy from professionals across Ireland. You can learn more about this by visiting the 'Training' section of our website. 
We would like to thank all our former students of TFS; the excellent tutors; committed staff members; our supportive funders at Mayo Sligo Leitrim Education and Training Board, as well as Atlantic Technological University for being the home of TFS for almost 25 years and for helping make TFS the success it truly was.
Goodbye Training for Success and thank you!