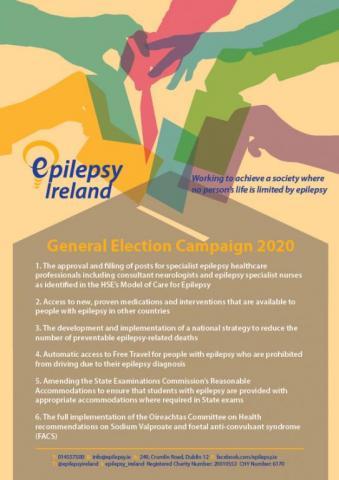 With the General Election campaign now coming to a close, Epilepsy Ireland has been busy reaching out to candidates seeking support for our key epilepsy priorities for the next Dáil term.
It is important to note that Epilepsy Ireland are non – political and that we are willing and ready to work with everyone elected to the 33rd Dáil in order to achieve our overarching aim of achieving a society where no person's life is limited by epilepsy.
However, it is also important to note and acknowledge when political parties and their candidates make a commitment regarding issues that will directly impact on the lives of people with epilepsy and their families. It is also important that our members, service users and supporters around the country are aware of these commitments ahead of polling day.
With that in mind, below is a compilation of the feedback we have received to date on our key asks.
In particular, there have been significant commitments made with regard to the issue of Sodium Valproate.
In their General Election manifesto (Page 56), Sinn Féin have committed to "Investigating use of Sodium Valproate and create dedicated healthcare pathways for those affected."
The Green Party has stated that "The Green Party supports the implementation of the Oireachtas Committee on Health recommendations on Sodium Valproate and foetal anti-convulsant syndrome (FACS)."
In comments made to the Medical Independent this week, Fianna Fáil Spokesperson on Health, Deputy Stephen Donnelly said that he is in favour of an independent inquiry on Sodium Valproate.  You can read more on his comments as well as Sinn Féin's manifesto pledge here.
Alongside this, many individual candidates from around the country have responded by email, by phone and on social media committing to help achieve our key epilepsy priorities.
As of Friday morning (7th Feb), these candidates are:
Andrew Montague; Labour; Dublin North- West
Brian Leddin; Green; Limerick
Catherine Martin; Green; Dublin Rathdown
Charlie McConalogue; Fianna Fáil; Donegal
Darren O'Rourke; Sinn Fein; Meath East
Gerald Nash; Labour; Louth
Jenny Blake; Social Democrats; Limerick City
Jerry Buttimer; Fine Gael; Cork
John Paul Phelan; Fine Gael; Carlow - Kilkenny
Kate O'Connell; Fine Gael; Dublin Bay South
Oliver Moran; Green; Cork North Central
Roisin Garvey; Green; Clare
Sean Haughey; Fianna Fáil; Dublin Bay North
Sean Sherlock; Labour; Cork East
Tate Donnelly; Green; Cavan Monaghan
Vincent Martin; Green; Kildare
Niall McNelis; Labour; Galway
Jennifer Caroll MacNeill; Fine Gael; Dun Laoghaire
Paul McAuliffe; Fianna Fáil; Dublin
Kenny Tynan; People Before Profit; Galway - Roscommon (Kenny is also a person living with epilepsy)
Pauline Flanagan; Fianna Fáil; Laois - Offaly
Mattie McGrath; Independent; Tippearary
Audrey Fergus; People Before Profit; Meath East
Theresa O'Donohoe; People Before Profit; Clare (Theresa is also a person with epilepsy)
Catherine Connolly; Independent; Galway
Seán Canney; Independent; Galway
Joe O'Brien; Green; Dublin Fingal
Jenny Blake; Social Democrats;  Limerick
Bobby Murray; People Before Profit; Cork South Central
Shane Ross; Independent; Dublin Rathdown
John Curran; Fianna Fáil; Dublin Mid-West
Patrick Costello; Green; Dublin South Central
Emmet Stagg; Labour; Kildare North
Catherine Ardagh; Fianna Fail; Dublin South Central
Paul Hayes, Sinn Fein, Cork South West
Saoirse McHugh, Green Party, Mayo