-Epilepsy Ireland highlight Epilepsy Nurse Specialist vacancies as part of Brain Awareness Week-
-NAI survey finds access to Neurological Services worse than during recession-
Failure to fill vacancies in epilepsy specialist nurse posts is a major issue facing people with epilepsy according to Epilepsy Ireland's CEO, Peter Murphy.
Mr. Murphy made his comments following the publication of new findings by the Neurological Alliance of Ireland (NAI) which revealed that access to neurological services is worse today than during the peak of the recession.
The survey was launched to mark the beginning of Brain Awareness Week, an advocacy campaign organised by the NAI and their member organisations – including Epilepsy Ireland.  
Among the findings of the survey, conducted among over 400 people with neurological conditions in late 2019, 17% of respondents reported that they could not access nurse specialists, compared to 11% in 2011.
"Unfortunately, the findings from the survey do not come as a surprise. Access to services is something that we at Epilepsy Ireland hear about every single day from people with epilepsy and their families. It is very concerning that access to a range of vital services has worsened over the past decade, and it is particularly worrying in relation to epilepsy specialist nursing, given that changes implemented by the HSE over that time have very much created a nurse-led model of epilepsy care", said Mr. Murphy.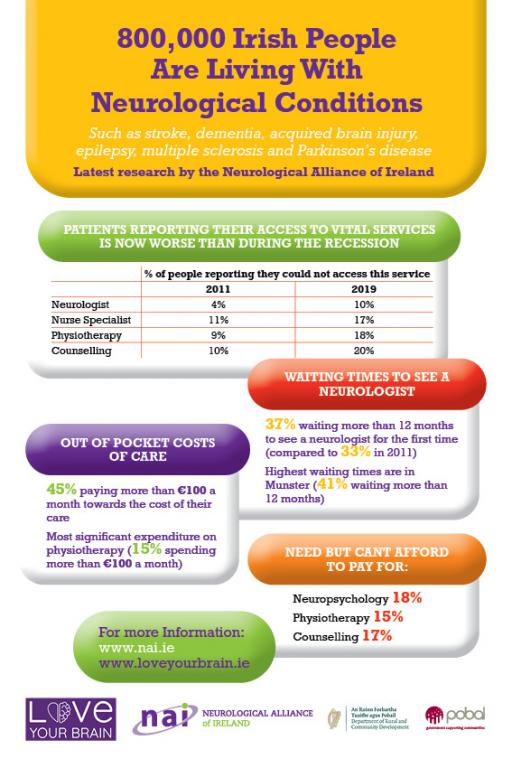 There are 800,000 people living with a neurological condition in Ireland today including 40,000 people with epilepsy, of whom about one in three live with uncontrolled seizures. For this group in particular, epilepsy can be the cause of major disability and necessitates regular contact with secondary and tertiary hospital services.
"The recruitment of over 16 Advanced Nurse Practitioner posts in epilepsy throughout the 2010s has been a major factor in improving the quality of epilepsy care in Ireland. A three year study funded by Epilepsy Ireland at Trinity College Dublin found that epilepsy specialist nurses had a positive impact of the health of people with epilepsy across a number of indicators and reduced attendance at emergency departments while remaining cost-neutral", said Mr Murphy.  
"Despite a strong evidence base in favour of expanding Epilepsy Nurse Specialist posts, there are currently four vacancies which have not been advertised despite being included in the HSE's Service Plan for 2019. Three of these are to be based in Munster (Cork, Waterford and Limerick), the area with the greatest access issue according to the NAI survey. The approval of these posts over a year ago was very welcome, but the fact of the matter is that they need to be advertised and filled in order to have any meaningful impact."
"Those worst affected are people with epilepsy outside of Dublin and women with epilepsy in particular. New regulatory requirements for a commonly used epilepsy medication, sodium valproate, require annual specialist reviews for all women taking the drug due to the risks associated with its use in pregnancy. Currently the resources are not in place to ensure that all women taking sodium valproate receive their annual review. This is an extremely dangerous and unacceptable situation, affecting an estimated 1,500 Irish women currently on the drug, some of whom may still be unaware of the risk of foetal malformations and neurodevelopmental delay in children exposed to valproate in the womb. This matter alone emphasises why a renewed focus must be placed on ensuring that these vacancies are filled without delay."
Brain Awareness Week aims to promote greater awareness and understanding of the brain and brain conditions as well as highlighting the need for more investment in services, research & prevention.
Speaking at the launch event for the week, Executive Director for the NAI Magdalen Rogers, revealed the stark findings of a wide ranging survey regarding access to services in Ireland today commenting, "Our periodic survey on living with a neurological condition in Ireland examined access to services for diagnosis, treatment and ongoing rehabilitation. Between 2011 and 2019, it was found that the percentage of people reporting that they could not access crucial services for their needs had more than doubled; including neurology, nurse specialists, physiotherapy and counselling services."
In her concluding comments at the launch, Ms. Rogers demanded action from the new Government on the issues highlighted in the NAI survey, stating, "We are calling on the new Government, whatever shape it takes, to honour commitments to invest in services for the 800,000 Irish people with neurological conditions. It is clear from our findings that those living with neurological conditions in this Country are being left behind and this must be addressed as a matter of urgency."