Emotional Wellbeing Workshop for Teenagers Living with Epilepsy (12-15) - with Katie McClean & Dr. Brian McClean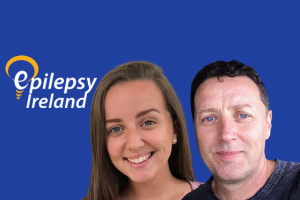 Epilepsy can be a condition which takes a toll on the wellbeing of those living with it given the individual nature of the condition in trying to find the right combination of treatment to help control a person's seizures. 
Being a teenager is tough - and being a teenager with epilepsy can be even tougher. With changes being experienced in all levels of all life and with the transition into adulthood, this can often be a difficult period for young people epilepsy as medications are adjusted to help treat their condition. 
Alongside the pressures of day to day life, this can take an emotional toll on a young person. This is why we have set up this special workshop for young people living with the condition. 
We are delighted to have not one, but two experts in the field of wellbeing joining us for this event. Katie McClean is an Assistant Psychologist in child and family Psychology and works daily with young people on understanding and coping with difficult emotions. Katie will lead the discussion at this event but will also be assisted by Dr. Brian McClean - a Clinical Psychologist with a wealth of experience in the fields of wellbeing & emotional intelligence. 
Alongside this expertise, our Community Resource Officers, Cliona Molloy and Sharon O'Connell will also be on hand to discuss epilepsy related queries and to outline to teens in attendance how we are there to support you with your epilepsy at all stages of life.
We look forward to welcoming young people on the night and please do not hesitate to get in touch with Cliona on cmolloy@epilepsy.ie should you have any questions about the event.
WHEN: June 22nd, 19:00 - 20:30
WHERE: Your home via, Zoom!
REGISTRATION:
To register, please email Cliona on
cmolloy@epilepsy.ie
or Sharon on
soconnell@epilepsy.ie
. Note this event is for teens aged
12-15
living in Ireland only - a seperate event for teens aged 16-19 can be found
HERE.