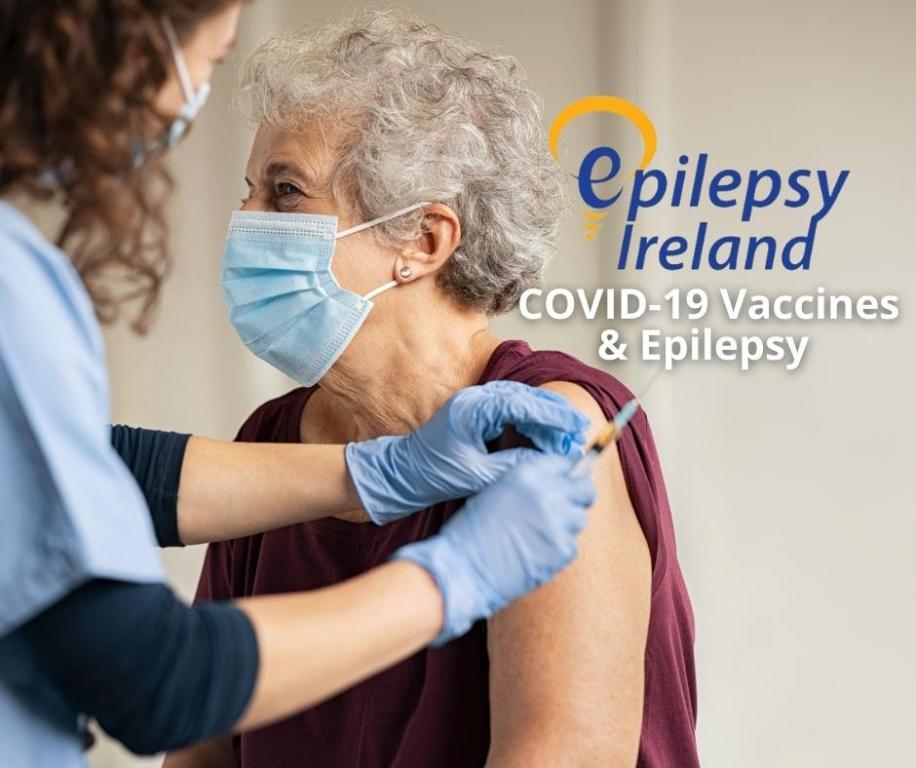 The recent approval of COVID-19 vaccines provides great hope of brighter days ahead in 2021.
There are currently (Jan 2021) two vaccines approved for use in the EU and therefore Ireland – the Pzifer/BioNtech Vaccine and the Moderna Vaccine. It is likely that others will be approved in the coming months.
This has led to questions from people with epilepsy about the vaccination rollout and possible side-effects.  We have answered these below with the information that is currently available. The page will continue to be updated with epilepsy-related queries as more information is available. 
While the vaccine rollout proceeds in Ireland, please rigidly follow public health advice in order to help prevent the spread of COVID-19.
Am I at higher risk of side-effects from a vaccine as result of having epilepsy?
There is currently no evidence to suggest that having epilepsy is specifically associated with a higher risk of side effects from a COVID-19 vaccine. For people with epilepsy, the risk of COVID-19 infection and potential complications far outweighs the risk of side effects from a COVID-19 vaccine. As with other vaccines however, a fever can develop after COVID-19 vaccination. This could lower the seizure threshold in some people. Antipyretics (e.g. paracetamol) taken regularly for 48 hours after the vaccination (or for the duration of fever) will minimise this risk.
Before you receive a COVID-19 vaccine, make sure to let your vaccination provider know that you have epilepsy, as well as any other important medical information, such as:
Allergies, especially an allergy to any ingredient in the vaccine

Allergic reactions to prior vaccines (e.g. flu vaccine)

Current or recent fever or infection

All medications you are taking, especially medications that suppress the immune system (e.g. immunomodulatory or immunosuppressive medicines) or anticoagulants.

If you are pregnant or nursing, or plan to become pregnan
 As with any vaccine, you should not receive the COVID-19 vaccine if you are allergic to any of its ingredients. You should not receive a second dose if you had an allergic reaction to the first dose.
If you have already received the COVID-19 vaccine, it is important to continue wearing a mask and to social distance. The current vaccines reduce your risk of getting COVID-19 infection by up to 90%, depending on the vaccine, but vaccinated people may still be able to spread COVID-19 to others without knowing they are carrying it.
When will people with epilepsy be vaccinated under the vaccination rollout?
At the moment this is not 100% clear. We have contacted the National Immunisation Advisory Committee to seek further clarification on this, and we await a response.
From the information that is currently available, it would appear that people with epilepsy will fall under Group 7 of the vaccination rollout. Group 7 is classified as "People aged 18-64 with certain medical conditions." Based on the information available, "certain medical conditions" includes "chronic neurological disease" which should include epilepsy.
However it is important to note that as the vaccination programme is rolled out, priority groupings may be given further consideration, and a number of clarifications will be made.
Please note that from the available evidence to date, there is no data that suggests people with epilepsy are more at risk of contracting the virus or being more adversely affected by the virus as a direct result of having epilepsy.
As more information become available on this, we will update this article and our social media channels with further information.
For further information on the vaccination rollout in Ireland, click HERE.
What should I do in the meantime while awaiting being called for the vaccine?
Over the coming weeks and months, we have to continue practising good hand hygiene & social distancing while wearing a mask in public places. This has been a difficult year for so many but we must hold firm to ensure that the most vulnerable in our society are protected.