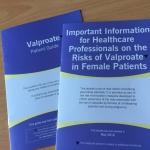 Sanofi and the Health Products Regulatory Authority (HPRA) have recently updated and redistributed important information booklets on the use of valproate (e.g. Epilim) in women and the risks associated with the drug in pregnancy.
Download this important pdf here.
In 2014, the European Medicines Agency strengthened its warnings on the use of valproate in women and girls due to the increased risk of developmental problems, autism and malformations in children exposed to valproate in the womb.
The new patient information booklet (below) along with a guide for healthcare professionals and a checklist for prescribers are being re-distributed nationally to GPs & specialists. Meanwhile, pharmacists are being asked to distribute a new information card to patients with their medications.
Epilepsy Ireland welcomes these moves, which were mandated by the European Medicines Agency. Two separate surveys we have conducted have indicated that awareness of the issues involved remains quite low and that there is poor patient-doctor communication.
We hope that increased dialogue and more informed decisions can be made around the risks involved for all women taking valproate.
During 2016, the outer packaging of Epilim will also be updated to reinforce the risks associated with the drug.
Key Points to remember when taking valproate (e.g. Epilim)
Valproate is an effective medicine used to treat epilepsy and bipolar disorder.
Valproate can seriously harm an unborn child when taken during pregnancy and should be not taken by women and girls unless nothing else works.
When taking valproate always use reliable contraception so you do not have an unplanned pregnancy.
Speak to your doctor if you are thinking about having a baby and do not stop using contraception until you have done so.
Tell your doctor at once if you think you may be pregnant or know you are pregnant.
Never stop taking valproate unless your doctor tells you to as your condition may become worse.