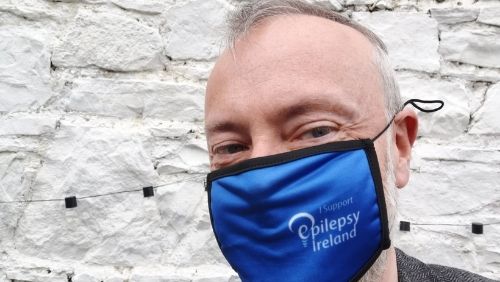 When the wearing of masks was first introduced as a measure to combat COVID-19, there were a lot of questions and concerns from people with epilepsy and their families. While there is currently no obligation to wear a mask in public (outside of healthcare settings), it is important to remember that the wearing of masks is an effective preventative measure against COVID-19. Many people with epilepsy are continuing to wear masks and this page is aimed at providing some key information for them on the wearing of masks.
Why were there concerns on the wearing of masks for people with epilepsy?
For some people with epilepsy, hyperventilation can lead to increased seizures. However, this is likely to be an issue for only a small minority of people with epilepsy. This issue was addressed in a review article which concluded that on balance it is not reasonable to recommend against mask wearing for people with epilepsy, especially considering that in most cases, they only need to be worn in crowded areas and for a limited period of time. You can read more about this review study by visiting the 'News' section of our website.
In addition, there was concern from people who may be anxious about wearing a mask. Stress and anxiety can lead to seizures. While the wearing of a mask itself may not lead to a seizure, stress and anxiety around the wearing of one could theoretically do so.  
What should a person do if I have a seizure while I am wearing my mask?
Where possible, it is helpful to remove a person's mask if they are having a seizure or if they are in the recovery stage. This will facilitate their breathing. You can learn more about seizure first aid by visiting the 'Seizure First Aid' section of our website.
How do I wear a facemask correctly?
It is important to ensure that you are wearing your mask correctly. See the below image as a very useful guide!

Do Epilepsy Ireland have facemasks available?
Yes! You can buy yours by visiting the shop section of our website.
Where can I get further information on the wearing of masks?
For the latest and most up to date recommendations on the wearing of masks, visit the HSE website