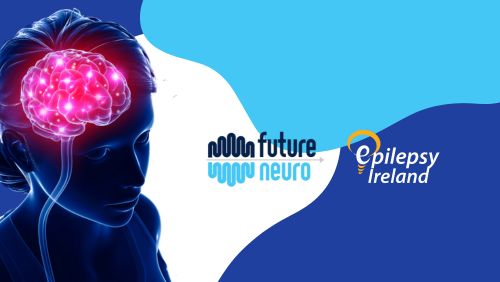 26 May 2023
**This event is now closed for registration. We look forward to welcoming attendees tonight!**
As part of National Epilepsy Week, we are joining with our colleagues in FutureNeuro - the Science Foundation Ireland Research Centre for Chronic and Rare Neurological Diseases - to host a special in-person event highlighting recent developments in epilepsy research and discussing priorities for future directions in research.
The event will feature leading scientists, clinicians and researchers investigating epilepsy in Ireland and some of the incredible research that is underway to drive new discoveries and treatment of the condition. We will also have a panel discussion about the future directions and priorities of epilepsy research with audience input to gather the perspectives of people with epilepsy and their families.
Agenda
6:00pm Tea/Coffee & Registration
6:30pm Welcome to event, by our host, Edel Curran, EI Training & Quality Manager
6:35pm Dr. Peter Widdess- Walsh – "Updates and developments in the treatment of Epilepsy"
Dr Widdess-Walsh is a consultant neurologist at Beaumont Hospital. He specializes in seizures and epilepsy but also cares for patients with a wide variety of neurological disorders. Dr. Widdess-Walsh is a graduate of Trinity College Dublin and is a Fellow of the Royal College of Physicians. He trained in neurology and epilepsy at the renowned Cleveland Clinic and is US Board Certified in Neurology and Clinical Neurophysiology. Peter also serves as President of the Irish Epilepsy League - the Irish branch of the International League Against Epilepsy. As part of his presentation, Dr. Widdess-Walsh will speak about new and emerging developments in the treatment of epilepsy.
7:00pm Prof. Gianpiero L. Cavalleri FutureNeuro – "Breakthroughs from FutureNeuro research on epilepsy genomic diagnostics and ehealth"
Gianpiero Cavalleri is Deputy Director of FutureNeuro, Professor of Human Genetics at RCSI and Director of the Human Genetics Variation Research Group, one of the largest human genetics research groups in Ireland. He is also Deputy Director (Translational Research) of the RCSI Office of Research and Innovation. His key scientific discoveries include the identification of the one of the strongest signatures of natural selection detected in the human genome to date, characterizing genetic predictors of cutaneous adverse reactions to anti-seizure medications. His team is applying the latest generation of DNA sequencing techniques to identify novel genetic causes of epileptic encephalopathies and improve the diagnostic yield of genetic sequencing in the epilepsy clinic. He is also working to identify genetic changes that can guide the safer prescribing of anti-epileptic drugs, to avoid adverse drug reactions. Prof Cavalleri will talk about his ongoing work at FutureNeuro and the breakthroughs he and his team have made in epilepsy regarding diagnostics and eHealth.
7:25pm Epilepsy Research Showcase
As part of this session, we will hear from three PhD researchers who are working on epilepsy projects, funded by Epilepsy Ireland and the Irish Research Council (Enterprise Partnership Scheme). James Britton will speak on his project focused on neuromodulation; Erva Ghani will discuss her work on the rare disorder CDKL5 deficiency disorder; while Radharani Benvenutti will provide an overview of her research, which is seeking to discover biomarkers for SUDEP in Dravet Syndrome.
8:00pm Epilepsy Research in Ireland – what are the priorities for the future?
To close this event, we will have a panel discussion involving earlier speakers, Prof. Gianpiero Cavalleri and Dr. Peter Widdess-Walsh. They will be joined by Prof. David Henshall, who is the Director of FutureNeuro; Claire Behan, Advanced Epilepsy Nurse Practitioner at St. James's Hospital and researcher at FutureNeuro; Emma Beamish, Epilepsy Ireland volunteer and patient representative; and Epilepsy Ireland CEO, Peter Murphy.
Panelists will discuss their perspectives on the priorities for future epilepsy research, both globally and in Ireland. In this session, we also want to hear from as many members of the audience as possible and get your views on the big unanswered questions in epilepsy. What are YOUR personal priorities, based on your lived experience of epilepsy? Come along and let us know! We are looking forward to a stimulating discussion that will help to shape the future research work of both Epilepsy Ireland and FutureNeuro.
**With all the presentations above, there will be an opportunity for questions and answers from the audience**
If you would like to hear more about the incredible epilepsy research happening right here in Ireland; learn more about what researchers feel are the top research priorities; and put your thoughts forward on what research matters most to you, please join us for this completely FREE event!
We look forward to welcoming you on the night!