Emotional Wellbeing & Study Skills for Teens with Epilepsy
Tuesday, February 23, 2021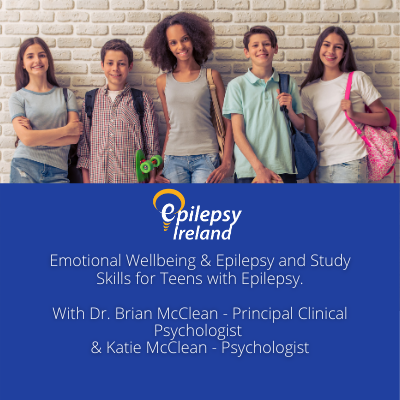 We are delighted to be offering this specific event for teens with epilepsy (12-19 years old) focussing on the issue of emotional wellbeing and living with epilepsy. 
For many people with epilepsy, their teenage years and living with the condition can prove to be difficult. Often as a person transitions into adulthood, this can mean changes in medication,dosage changes and breakthrough seizures. These can be a difficult time for young people living with the condition as they come to terms with living with epilepsy. 
It is of the utmost importance that a person be aware of their emotional wellbeing during these times which is why we are delighted to be offering this virtual event. We will have the expertise of Dr. Brian McClean - Principal Clinical Psychologist &  Katie McClean - Psychologist; on hand at this virtual event to talk the teens in attendance the importance of their wellbeing. 
Our event will also include a segment on study skills as examination periods can be particularly stressful for young people with epilepsy - and for many, stress and anxiety can lead to seizures so we hope that the study skills part of our event will help alleviate some of this stress in the future.
We look forward to welcoming you on the night and feel free to contact our Community Resource Officer, Cliona on cmolloy@epilepsy.ie.
WHEN: Tuesday 23rd February, 7pm
WHERE: Your home, via Zoom.