Tuesday, November 10, 2020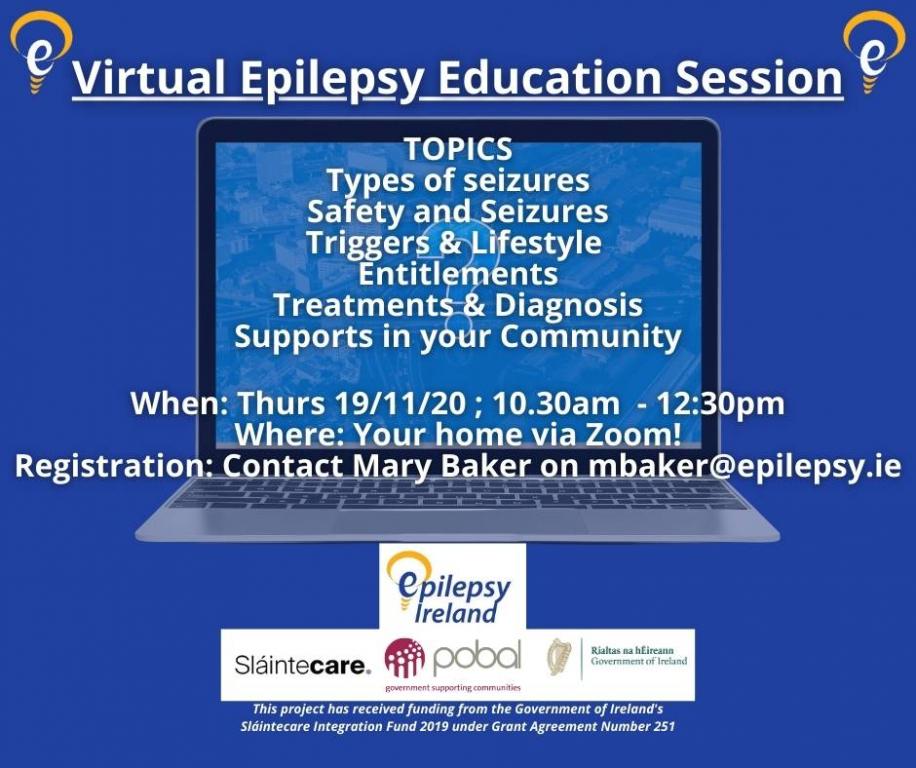 With the ongoing pandemic, we have adapted our services in so far as possible wherever possible and our message has remained that we are still here for you should you require any support or advice with your or your family member's epilepsy during these particularly difficult times. 
Our Community Resource Officers are available by phone, email or video call should you require one-to-one support while groups supports have also been continuing in an online environment. One further example of this is our upcoming Virtual Epilepsy Education Session.
These sessions are targetted at adults who may have been recently diagnosed or family member's of adults who have been recently diagnosed with epilepsy. The sessions bring together an Epilepy Ireland Community Resource Officer and an Epilepsy Advanced Nurse Practitioner to discuss a range of topics including:
- Types of seizures
- Safety & seizures 
- Triggers & Lifestyle
- Entitlements
- Treatment & diagnosis
- Medications 
- Supports in your community 
There will also be an oppurtunity to put further questions you might have to our Community Resource Officer or the Advanced Nurse Practitioner. These sessions are being carried out through the support of the Sláintecare Integration Fund which promotes engagement and empowerment of citizens in the care of their own health and we are delighted to be offering this service to help ensure that people have all the correct information about epilepsy.
Our next Virtual Epilepsy Education Session takes place on Thursday 19th November from 10.30am - 12:30pm. Should this be of interest to you or a family member, please contact Mary Baker on mbaker@epilepsy.ie or by calling 0858766583 to register your place. 
Remember - we are still here for you. Please do not hesitate to get in touch with your local Community Resource Officer should we be of assistance. Further information on COVID-19 & Epilepsy is available here.
Stay safe and #HoldFirm.