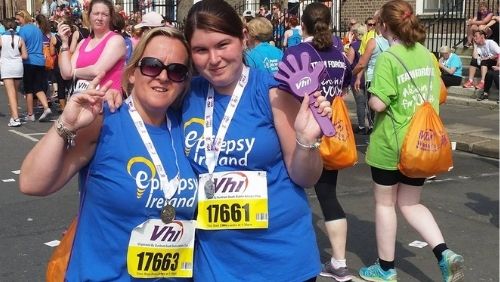 We have been privileged to have hundreds of people represent Epilepsy Ireland in marathons right across the globe. Whether you come in first or last, you are a champion in our eyes if you decide to take on the ultimate endurance test in our name! Marathons are now synonymous with the charity sector with the majority of people involved running on the behalf of an organisation close to their heart. We hope to be that charity and we'll be on hand to provide you will all you need if you're thinking about challenging your mind....and your legs!
A massive thank you to those who took part in the VHI Women's Mini Marathon and the Cork City Marathon on the June Bank Holiday weekend, who managed to raised an incredible combined sum of almost €9,000 and didn't let the rain dampen their spirits!
If there is an upcoming event you are taking part in and would like to fundraise for us do get in touch and we will send you out our lovely running t-shirts or vests! Watch this space for more upcoming events very soon!
If you have any questions about taking part in a marathon in support of Epilepsy Ireland, please get in touch with our team by emailing fundraising@epilepsy.ie.