Thursday, August 26, 2021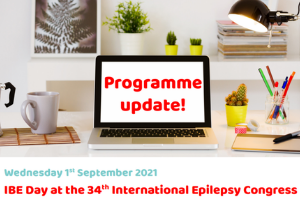 Our colleagues in the International League Against Epilepsy (ILAE) and the International Bureau for Epilepsy (IBE) are all set to host the 34th International Epilepsy Congress – which is set to begin this coming Saturday and run until September 1st.
While the majority of the programme scheduled is targeted at healthcare professionals and researchers, members of the public are invited to attend the "IBE Day" on September 1st.  This is free to register and attend and may be of interest to many of our members and supporters.
There are three sessions during the day which begins from 12pm (Irish Time) on September 1st.
The sessions are as follows:
Making Epilepsy a National Health Priority - intersectoral collaboration
Empowering Youth to Raise their Voices
Psychologic treatment and self-management of epilepsy
The IBE Day will have a distinctly Irish feel with the session on "Empowering Youth to Raise their Voices" being chaired by our 2020 International Epilepsy Day Myth-Buster, Lorraine Lally – while her fellow Myth-Buster, Oliver Kilmartin, is set to be awarded an International Golden Light award from the IBE for his passion in raising awareness of epilepsy in Ireland.
If you would like to read more on the IBE Day programme, click HERE.
We look forward to attending and to seeing our volunteers taking part in the IBE Day.