Virtual Epilepsy Education Session - with Dr. Danny Costello & Prof. Henry Smithson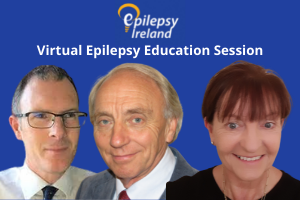 As part of our activities for National Epilepsy week, we are hosting a Virtual Epilepsy Education Session. 
At this session, we will be joined with Dr. Danny Costello Cork University Hospital; University College Cork & FutureNeuro. Dr. Costello is a consultant neurologist who is involved in the treatment of epilepsy patients daily and will provide vital insights and expertise on the condition. Alongside Dr. Costello, we will also have Professor Henry Smithson from University College Cork. Professor Smithson worked in general practice for over 25 years however, has always held a particular interest in epilepsy. He has been directly involved in the development of an epilepsy death register in Ireland and epilepsy pregnancy register. More recently, through UCC, he has been working closely with Epilepsy Ireland to develop a patient checklist for people with epilepsy and GP's.
Finally, our Community Resource Officer Niamh Jones will also be on hand and will be explaining how Epilepsy Ireland can support you in your community and will also be discussing our Living Well with Epilepsy Programme 'Toolkit'. We have recently redeveloped the Toolkit and Niamh will be explaining how this can help you with the self-management of the condition.
The Virtual Epilepsy Education Session is of particular interest to adults with Epilepsy. The session will be brought to you as part of Epilepsy Ireland's Slaintecare Project and aims to ensure that you have access to expert information on epilepsy and are fully informed about the steps needed to begin the self-management of your condition.
We look forward to welcoming you on the night!
WHEN: Thursday 27th May, 19:00
WHERE: Your home, via Zoom!
REGISTRATION:
 To register, click
HERE
. If you have any questions about this event or questions you would like to put to your speakers, please email Mary Baker in advance at
mbaker@epilepsy.ie
.