Epilepsy Ireland are seeking the support of the public for our annual fundraising day, Purple Day®.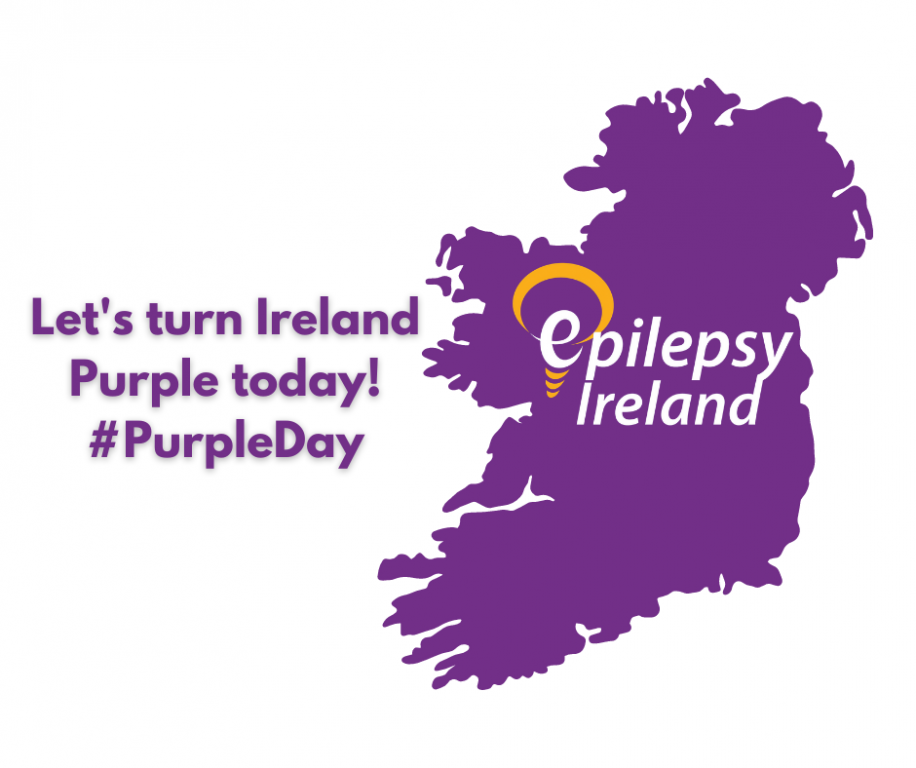 Purple Day® has grown to become Epilepsy Ireland's largest fundraising day over the past number of years and this year's Purple Day® marks the second year that we have been forced to move the event entirely online. However, we have numerous ways that the public can get involved online, safely from home during the current lockdown. These include donating and turning Ireland purple on their new fundraising platform; sharing your purple look; and getting your "degree" in epilepsy awareness.
Epilepsy Ireland Fundraising Manager, Stephen Lowy explained the different aspects to this year's online campaign.
"We have launched an interactive map where you can literally help us turn Ireland Purple for Purple Day®. The map allows you to drop a pin highlighting where in Ireland you are donating from, and as donations accumulate the Emerald Isle will hopefully be turned totally purple! Every donation is vital to our work across the Republic – particularly during these challenging times. We are hoping our map will stir up the competitive natures that exist along county lines and we're hoping that people will be dropping pins across Ireland in support of our work!"
"We also want people to share their purple look for Purple Day®. We have now all been living at home for over a year now and let's face it - we haven't had much reason to get all dressed up. We are giving you a reason – so long as it involves purple! Use purple make-up, face paint and clothes to create the perfect purple look to help us raise awareness of epilepsy for Purple Day®. Share a pic and tag us on social media and please consider asking your friends and followers to get involved and donating to our work. This is a fun activity that is open to all ages and genders. Your Purple Look could be vital in helping us raise awareness and funds today."
"Finally, we have our 'degree!' While Purple Day® is a major fundraising day for us, it is also a major epilepsy awareness day as well. Our 'degree' has proven to be extremely popular as a one-stop shop for quick need to knows about epilepsy. While the name 'degree' is certainly tongue-in-cheek and the modules are presented in a colloquial fashion – it contains vital information that you may need at some point in your life if responding to a seizure. Research we conducted earlier this year found that 50% of the public have witnessed a seizure at some point in their lives while 87% completely underestimated the prevalence of epilepsy in Ireland. The condition affects 40,000 people in the country and you never know when you might have to respond to a seizure so please take 10 minutes on Purple Day® to get your 'degree!"
"Due to COVID-19 and the loss of public & traditional fundraising events throughout 2020 and to date in 2021, Epilepsy Ireland's fundraised income has been significantly reduced. We provide services and support for people with epilepsy and their families on how best to manage and live with the condition; invest in Irish epilepsy research; provide training for healthcare workers, teachers & SNA's on epilepsy awareness and medication administration; and work to raise public awareness & understanding about the condition. Any donation that you might be able to give today will be vital to our work across Ireland."
For all the different ways you can support today's fundraising and awareness efforts, click HERE.
Further Info:
To donate and turn Ireland Purple, click HERE
To find out how to get your Purple look, click HERE
To get your "degree", click HERE
About Purple Day®
Purple Day® is an international grassroots campaign founded by Canadian woman,Cassidy Megan. The day sees people across the world encouraged to wear purple in the name of epilepsy awareness and well-known buildings across the globe also light up purple in recognition of the estimated 50 million people living with epilepsy across the globe.
Globally, the day takes place on March 26th. However, the day is being celebrated in Ireland this year on March 25th. It was identified by Epilepsy Ireland that the day was landing on the same day as Daffodil day and we know that many of our supporters would like to support both days and we therefore decided to lead the global awareness raising by moving Purple Day® in Ireland to March 25th.
Purple Day® is a Registered Trademark of The Anita Kaufmann Foundation.
For more on Purple Day®, see Purpledayeveryday.org.