STEPS for Parents of Children with Epilepsy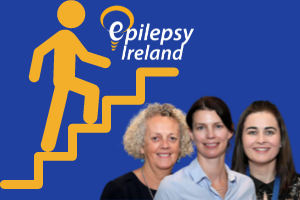 Wednesday, September 22, 2021
Our Community Resource Officers Agnes Mooney, Mary Baker & Edel Killarney are hosting an online STEPS programme for parents of children with epilepsy - and if you're from the North-West, North-East or the West region, we'd love to have you join us. 
STEPS is a self-management programme we offer to help parents become the experts in managing their child's epilepsy in a supportive, non-judgemental environment alongside other parents in a similar situation.
Over a 4-week period you will be given information and advice on understanding epilepsy, managing safety, understanding your child's needs, medications and the medical system - alongside so much more. The overall aim is to make you feel more confident and comfortable with your child's diagnosis to help ensure that you can support them on their journey with epilepsy.
This current programme is set to begin from September 22nd and will continue on the 29th and into the following month of October 6th &13th.
Each event will take place in the morning from 10:00am - 11:30am.
We look forward to welcoming parents from across the regions to this event and would encourage you to attend to help maximise your understanding of your chid's epilepsy.
WHEN: Beginning on September 22nd, continuing on the 29th and continuing into the following month on October 6th &13th from 10:00am to 11:30am.
WHERE: Your home , via zoom!
WHO:
This event is for parents of children with epielpsy from the North-West, North-East & West regions (Donegal, Sligo, Monaghan, Cavan, Louth, Meath, Mayo, Roscommon & Galway).If you are from outside the areas listed above and would like to have a STEPS programme organised in your region, please contact your local 
Community Resource Officer.
REGISTRATION:
To register for this event, click
HERE.
 Should you have any further questions about this programme, Edel, Agnes & Mary are more than happy to discuss. You can find their details
HERE.