Self-Care & Emotional Wellbeing for parents of children with epilepsy - with Dr. Brian McClean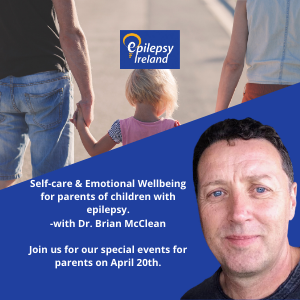 Epilepsy is a condition that can affect the entire family; particularly when the condition is uncontrolled. For parents of children with epilepsy, this can be an extremely stressful time and one that can impact on the wellbeing of parents as they aim to care for their child with a long-term condition. Even when the condition is controlled, this stress and worry can remain for many parents.
This is why we have organised this special event specifically for parents of children with epilepsy. The event will focus on parent's need and will be a platform for you to share and explore some of the challenging emotions that can be experienced as a parent of a child with epilepsy in alongside other parents in similar circumstances.
We are delighted to be joined by Dr. Brian McClean who is a Clinical Psychologist and brings a wealth of experience in the fields of wellbeing & emotional intelligence to this event. 
If you have any questions or queries on this event, please contact our Community Resource Officer, Edel Curran on ecurran@epilepsy.ie.
We look forward to welcoming you on the night!
WHEN: April 20th , 19:00pm - 21:00pm 
WHERE: Your home, via Zoom!
REGISTRATION:
To register for this event, click
HERE.