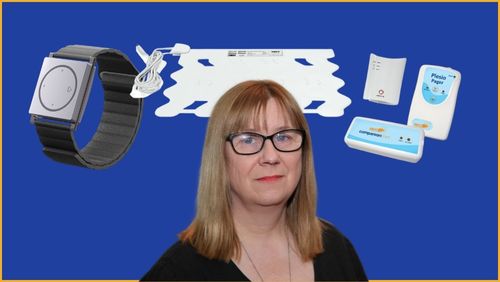 29 Nov 2023
In the last number of years, there has been a huge increase in the availability and types of seizure detection devices.
These devices have the potential to allow a person to lead a more independent life, learn more about their own individual condition, and to alert a loved one or carer to the fact that a person having a seizure – allowing for seizure first aid to be given as soon as possible.
However, as with all thing's technology, this is a constantly evolving space. One of the most common queries our team of Community Resource Officer's receive from people with epilepsy and their family members, is about these devices. This is why we are delighted to arrange this online session with our National Information Officer, Geraldine Dunne.
As part of this session, Geraldine will discuss the types of alarms that are available in Ireland; prices that are involved; and other considerations which should be accounted for when assessing whether an alarm would be suitable for you or your loved one. There will also be an opportunity for questions and answers. However, please note that due to the individual nature of epilepsy, no specific recommendations can be made on the best alarm that will suit an individuals need – the purpose of the event is to ensure that you have the most accurate and up-to-date information to help inform your decision.
Geraldine delivered a similar session at our National Conference in 2021, which was well received by all those in attendance and those who watched it back.
We look forward to welcoming you to this event and should you have any questions about this event, please email Geraldine on gdunne@epilepsy.ie. You can also submit questions in advance of the event on the Zoom registration page.
WHEN: Wednesday 29th November at 6.30pm.
WHO: This event is for adults with epilepsy; carers of people with epilepsy; parents/guardians of children with epilepsy. Healthcare professionals are also welcome to attend.
WHERE: Your home, via Zoom!
REGISTRATION: To register for this event, visit our registration page on Zoom by clicking the button below.
REGISTER NOW ON ZOOM