London to Wexford and back to London again – that is the challenge that the friends and family of Louise Young are undertaking virtually – and they want you to take part as well!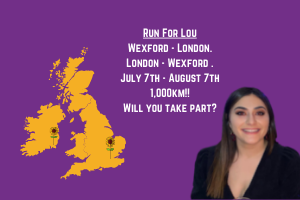 Louise Young was both a media and fundraising volunteer for Epilepsy Ireland but sadly passed away suddenly at the beginning of 2021. Since her sudden passing, Louise's family and friends have continued to raise funds for Epilepsy Ireland and awareness of epilepsy in her memory.
This latest challenge has been devised by Louise's sister, Katie – and aims to add to the already enormous amount that has been raised in honor of Louise, which currently stands at well over €35k.
From July 7th to August 7th, Louise's family and friends will be aiming to walk/run/cycle or swim the distance from Wexford to London – and back again.
As a proud Wexford woman, Louise worked in London during her life and both places held a special place in her heart.
Originally as the challenge began, Louise's family and friends were aiming to clock up 1,000kms between them – the estimated distance from Wexford to London – and back to Wexford again. That target has already been absouletly smashed so they're now aimimg to do as many round trips to London and back as possible!
Even though the target has been met, they'd love if you could chip in a few Km's as well and encourage friends and family to donate to their fundraiser in Louise's memory.
Poignantly, the month-long challenge is set to end on what would have been Louise's 25th birthday.
To take part:
Walk/Run/Cycle or Swim a number of KM's between July 7th and August 7th
Let us know that you're taking part, share a pic of you completing your kms and show us how many kms you have contributed by tagging Epilepsy Ireland and by using the hashtag #RunForLou
Email Katie on louiselegacy7@gmail.com with an update on how many kms you have completed so we can track our kms and how far we're along in our journey to London and back!
Share a message of support and encourage friends and family to donate by clicking HERE.
A draft status you can share is included below:
I'm taking part in the #RunForLou for Epilepsy Ireland and I have chipped in with X kms. Please donate at the link below.
To support the #RunForLou, you can donate HERE.
We would like to thank Louise's family and friends for their continued support of Epilepsy Ireland through this difficult time.
Louise Young - Ar dheis Dé go raibh a hanam.