Tuesday, February 25, 2020
Update; Friday 28th February 2020; Ciara has been in touch to say she has contact from a number of volunteers seeking to assist her with her research. She has above & beyond the required number of participants and would  like to thank everyone for getting in touch. We look forward to hearing the results of her work and you can read about her research aims below:
Epilepsy Ireland have received a request from NUIG Occupational Therapy student ,Ciara Kelsey seeking participants for her study on driving disruption experienced by young males due to epilepsy.  Ciara has outlined the goals of the study below and what is involved for potential participants.
We receive research requests and those that are looking for volunteers can be found in the research section of our website.
If you would like to take part, please contact Ciara directly on 0871148972 or by emailing c.kelsey1@nuigalway.ie.
Are you a man who has experienced Driving Disruption due to Epileptic Seizures?
What is the aim of this research?
Driving restrictions are reported as the primary source of dissatisfaction amongst young men with epilepsy. This research study aims to explore how people adapt their everyday activities when they must stop driving due to epileptic seizures.
Who should take part?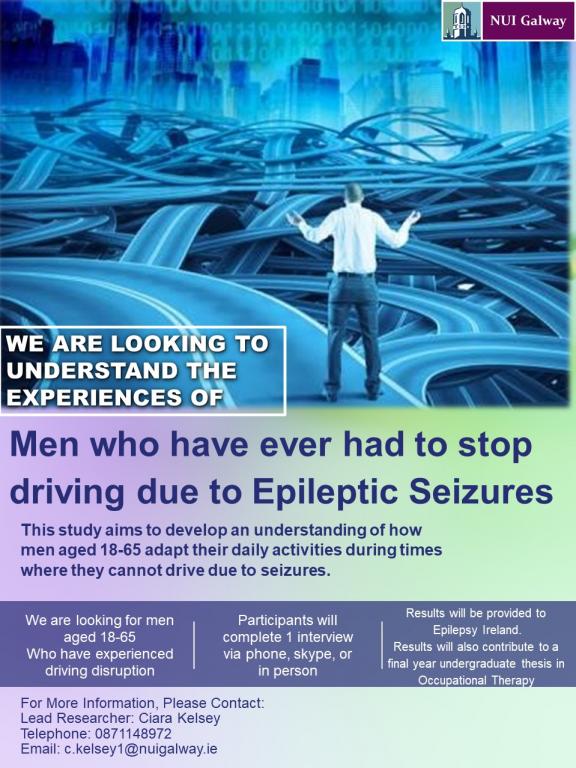 We are looking to capture the experiences of men aged 18-65 who have had to stop driving for at least 1 year due to epileptic seizures.
Participants must be living in the community. Participants must have held either a full drivers licence or learners permit prior to driving disruption. Participants must have some experience of driving, whether as a licenced or learner driver.
What is involved if I take part?
We are asking men with epilepsy who have stopped driving due to epileptic seizures to participate in one to one interviews with the lead researcher. Participants will be asked to share their experiences of how they have adapted in their daily activities
Individual interviews will take place, in person in offices in the National University of Ireland, Galway, or via telephone or skype using pre-agreed questions and prompts.
Informed consent will be obtained from participants prior to interviews commencing.
Interviews will be audio recorded to ensure the information is captured accurately. Recordings will be subsequently deleted following transcription.
Why is this study focusing on the experiences of men?
This study will specifically recruit men with epilepsy as this group are commonly underrepresented within research studies. Emerging literature about driving disruption suggests that aspects of the experience of driving disruption may differ across gender. By focusing on a more specific group, results regarding the experience of driving disruption may be more accurately generalized to this population.
How many other people will be in the study?
This study will involve between six and eleven  people in Ireland.
Who is organising the research?
The Lead Researcher is: Ms. Ciara Kelsey. Occupational Therapy Student, College of Health Sciences, National University of Ireland, Galway.
Who else is involved?
The Co.Investigator & Supervisor is Ms. Jackie Fox, MSc, BSc (Hons) Occupational Therapy, PG Dip (Clinical Teaching), Lecturer in Occupational Therapy, School of Health Sciences, National University of Ireland, Galway. 
Are there any risks?
There will be no foreseeable risks or discomforts associated with participating in the interviews. Risks associated with this study will be minimised as sensitive data will not be requested from participants.
It is possible that discussion of driving cessation consequent to epileptic seizures will cause distress. Consent will be re-sought should this happen and data will be retractable. Breaks, skipping questions, rescheduling or withdrawal may be availed of at any time until data isanonymised.
What are the benefits if I join the research?
There will be no direct benefit for participants taking part in the study. The anonymised results of this research will be shared with Epilepsy Ireland who may use it to raise awareness of the impacts of driving cessation consequent to epileptic seizures.  
Who is funding the research? Is my researcher being paid for doing the study?
There is no funding provided for this study. No researcher is being paid to have you join the research.
What information about me (personal data) will be used as part of this study?
The collection of personal or sesitive data will not be required to meet the objectives of this study and will therefore be avoided.  
Identifying details will only be collected in consent forms, which will be held by the participant, and by the research supervisor in a locked cabinet.
As all remaining data will be given code names, the risk of leaking identifying data will be very low.  
We will collect demographic information (eg age, gender, date of birth).
What is the lawful basis to use my personal data?
The General Data Protection Regulation (GDPR) allows us to process your data because the research is of substantial public interest (Articles 6(1)(e) and 9(2)(g) of the GDPR).
Who is responsible for how my information is used?
The person responsible for your information is Ms, Ciara Kelsey (data controller and principal investigator). The only people who will have access to your information are members of the research team.
What are my rights?
You have the right to access, restrict the use, correct, or remove, the information we have collected about you. You have a right to object to any aspect of the information we request from you. You have the right to obtain and reuse your personal data for other purposes.
How will my information be stored?
To ensure confidentiality, the data generated during the study is coded with a number that will identify you in the study. Any information that leaves the university  will be labelled with your code instead of your name. Every person that has access to your uncoded data at the University site is subject to professional secrecy and confidentiality.
Your personal data, i.e. consent forms containing your name, will not leave the university and will be stored in a locked cabinet.
Your interview data will be password protected and stored on a password protected laptop computer until write up is complete. This data will then be removed from the computer and stored on a memory card in a locked cabinet in the research supervisor's locked office in NUI, Galway.  
Who has access to my records?
Only the research team will have access to your information. The Research Ethics Committee of the Galway Teaching Hospitals may request access to your file so that they can check if the study is being conducted to the best standards.
How will my information be used?
All information, which is collected about you during the research, will strictly be used to learn more about the experience of driving cessation due to seizures.
The results of the study will be summarized and provided to Epilepsy Ireland
The results of the study will be written up and submitted to the National University of Galway as part of an undergraduate thesis in occupational therapy.
The results of the study may be shared at scientific meetings or published in medical journals, but your information will be fully anonymous.
No identifiable information about you will be given to any outside party.
In accordance with data protection law, you have the right to access, rectify, or erase, the information we have collected about you. You also have the right to make a complaint to the data protection authority, if you feel it is necessary. 
How long will my information be kept for?
If you wish to make the results of your interviews available for use in future research, it may be kept within NUI,Galway for the next 5 years (until 2025). The reason for this is the information collected by our research may continue to help researchers learn more about epilepsy, even many years after the study is finished. After this period has elapsed, all data will no longer be traceable to you.
Your interview data will be assigned a code-name which will no longer be tracable to you after transcription. Remaining consent forms, and correspondence containing your name will be shredded or deleted following the write-up of the study.
Is my participation voluntary?
It is up to you to decide whether to take part or not.  Even if you do decide to take part, you will be free to withdraw your data until 2 weeks after your interview. After this time your data will have been assigned a code name and mixed with other participants' and will no longer be tracible to you.
You do not need to give a reason to withdraw.  This will not affect the standard of care you will receive from any services.
Who should I contact if I have further questions or wish to take part?
Principal Investigator:
Ms. Ciara Kelsey. Occupational Therapy Student, College of Health Sciences, National University of Ireland, Galway.
Email:   c.kelsey1@nuigalway.ie
Telephone: 0871148972