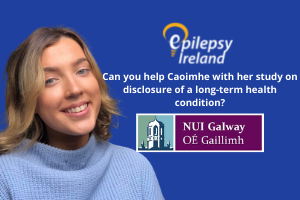 NUIG Health Psychology postgraduate student Caoimhe O'Sullivan is seeking feedback from people with epilepsy as part of her study focussing on disclosure of a non-visible health condition.
Epilepsy is an invisible condition for many and Caoimhe's study will be aiming to quantify how the disclosure of a condition can impact on a person's wider health & well-being.
Participation in the study requires completing an online survey and will take approximately 20 minutes to complete.
The survey can be accessed by clicking HERE. If you have any further questions on this study, you can contact Caoimhe directly by emailing C.OSULLIVAN45@nuigalway.ie.