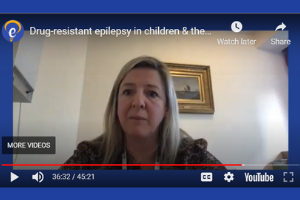 We were recently delighted to be joined by Dr. Bláthnaid McCoy for a webinar on the issue of drug resistant/treatment refractory epilepsy. 
The webinar focussed primarily on CBD which is of huge interest to many parents caring for a child with drug resistant epilepsy and indeed, of interest to the wider epilepsy community. 
If you missed it at the time, you can access the recording of Dr. McCoy's presentation below - alongside some questions that we had received for Dr. McCoy in advance of the recording.
For further information on Medical Cannabis and Epilepsy, visit our mini-site HERE. We would like to thank Dr. McCoy for taking the time speak to us about this most important subject. 
**Please talk to your doctor or epilepsy specialist nurse if you are using or considering using any cannabis-based product. **