In the lead up to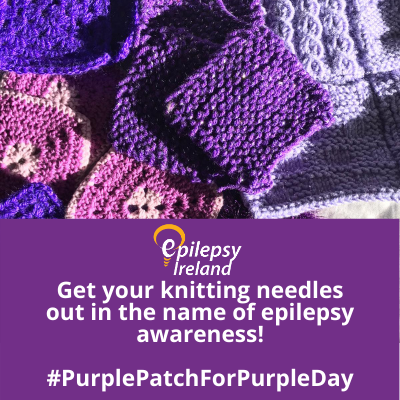 International Epilepsy Day 2021, we had the 50 Million Steps Challenge as a way to create awareness of the day (which was absolutely smashed by the way!).
That got us thinking and we decided that we needed to devise a special challenge for the lead up to the second major epilepsy awareness day in the year - Purple Day!
With Ireland currently in lockdown – and with it looking likely that we face a difficult few months ahead – we need to keep our minds busy while staying safe.
Despite the ongoing situation with COVID-19, we at Epilepsy Ireland remain focussed on raising awareness of epilepsy and to continuing our journey towards a society where no person's life is limited by epilepsy so for the lead up to Purple Day, we are asking our dedicated members, volunteers, supporters and followers to get their knitting needles out in the name of epilepsy awareness and knit a Purple Patch in the lead up to Purple Day.
We want you to create a patch or pattern (ideally in purple) and post your creations on to us to our HQ in Crumlin. 
We will then stitch them together and the combined patchwork will be displayed in our office.
Each patch will be different; individual and can represent either yourself as a person with epilepsy or a family member or loved one who you know who has epilepsy – this will highlight the individual nature of epilepsy and the 40,000 people it affects in Ireland today.
Directions:
Needles used should be 4mm
Double knit wool using plain garter stich
Each patch should cast on 20 stitches and knit 40 rows in plain stitch
Cast off after the 40th row
Each patch can be knit or crocheted
Each patch should be approximately be 4 x 4 inches
Ideally, try and keep the patch to a purple colour but don't worry too much about it if you can't source purple materials; we know that this can be difficult – we'll not exclude your excellent work!
When complete, post your patch to Epilepsy Ireland, 249 Crumlin Road, Dublin 12, D12RW92 and why not also include a note to let us know why you are sending the patch - i.e, are you a person with epilepsy; did you complete the patch for a family member with epilepsy etc! Please try and get the patches to us by Thursday 18th March so it gives us time to stitch together. 
Feel free to send more than one as well and if you're feeling even more generous; when you do knit more than one you can stitch them together in groups of 4 before sending them to us.
When we get all the patches in, we'll stitch together and all going well, we'll be able to unfurl the finished patchwork on Purple Day!
If you have any further questions on the directions, please contact our resident Epilepsy Ireland knitting expert and Community Resource Officer for the Mid-West, Veronica Bon on vbon@epilepsy.ie.
Above all else; have fun with this and hopefully this #PurplePatch challenge for #PurpleDay will occupy the mind and allow you to learn or hone a skill during this challenging period.
Remember, our team are still here for you and should you need any support or advice with your or a family member's epilepsy, please get in touch with your local Community Resource Officer.