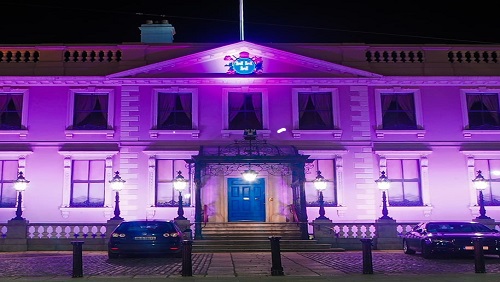 With International Epilepsy Day now behind us, another massive day for global epilepsy awareness is on the horizon with Purple Day taking place on the 25th March.
Purple Day is also a major fundraising day for Epilepsy Ireland. Last year as we prepared for Purple Day, we had the onset of the COVID-19 pandemic in Ireland. This meant that we had to switch our plans entirely online at the last minute. At that stage, we never would've thought that we would be still in this situation one year down the line but the reality is that we need to continue to Hold Firm with measures to prevent COVID-19.
That means that once again, this year's Purple Day will be online. In the lead up to the day and on the day itself, there are a number of ways that you can help.
Identify buildings in your area that can light up Purple!
Last year, we were unable to pursue this aspect of our campaign due to the need for people to stay at home however this year, we've hoping that we will be able to get buildings across Ireland to light up Purple in the name of Epilepsy Awareness. If you think there is a building/business within your area that you might be able to encourage to light up purple, please contact Luke on lmeany@epilepsy.ie
Buy our Purple Wristbands
Just because you're staying safe at home doesn't mean you can't raise awareness. Get your Purple Wristband today by clicking HERE. Be sure to tag us in a pic when you get your band.
Take part in the #PurplePatch campaign
You need to stay safe at home so why not learn a new skill and send us a Purple Patch as part of our awareness campaign in the lead up to #PurpleDay. Click HERE to learn more!
Devise a socially distant fundraising challenge
Over the past year we have had people complete virtual marathons; climb mountains; and even complete 40,000 push ups in the name of raising awareness and funds for our work. Why not think about completing your own challenges for the day and set up a facebook fundraiser and ask your friends to sponsor your efforts. Contact Luke on lmeany@epilepsy.ie if you'd like to discuss your idea!
Tell your Story
A key to helping people understand epilepsy is by hearing from people who are living with the condition. This allows them to learn about the individual nature of the condition; how people can have different types of seizures; how the condition is so much more than seizures; and what to do in the event of a person having a seizure.
By sharing your experience, you can help reduce the stigma associated with epilepsy. You can do this by sharing your story either by video or through written testimony on your own social media channels and be sure to tag Epilepsy Ireland as well!
If you choose to record a short video, remember the following:
-Plan your message: think about what you want people to know about epilepsy. Epilepsy is of course a complex condition so remember that you might be speaking to people who have no idea or experience of epilepsy. Think about the one key point you want to leave them with and focus on that message
-Keep it short: with the explosion of social media, our attention spans have unfortunately wained so it is recommended that social media videos are approximately 3mins long (we know this is easier said than done but something to bear in mind!)
-Record in quiet place and keep yourself in frame: if you're telling your story, those vieiwing will want to see and hear you so be conscious of your surroundings!
Feel free to contact our communications Officer, Paddy McGeoghegan on pmcgeoghegan@epilepsy should you require any support or advice on the above.
Like, share and follow
In this COVID-19 environment, the importance of a like and a share cannot be underestimated. By simply letting people know about #PurpleDay, you can help encourage your friends and family to learn more about a condition that affects 40,000 people in Ireland today and to learn more about our work across Ireland. In addition, if you invite your friends to like our channels- this means we might be able to reach more people which means more people can learn about epilepsy!
Wear Purple!
Well this one shouldn't come as any surprise! On the day, we want to see a sea of purple on zoom calls; within your bubbles or if you have to go out and about. Be sure to wear purple on the day in the name of epilepsy awareness and be sure to share a pic and tag us!
Thank you for your support and lets make this the best #PurpleDay yet.