Parents information session on drug resistant/treatment refractory epilepsy - with Dr. Bláthnaid McCoy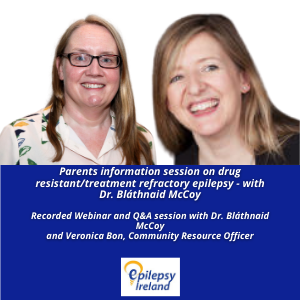 We recently had the opportunity to record a session with Dr. Bláthaid McCoy regarding emerging treatments for drug resistant/treatment refractory paediatric epilepsy, in which Dr. McCoy provides her insights and experiences in this field.
Dr. McCoy is a Consultant Paediatric Neurologist at the Blackrock Clinic and the Beacon Hospital and has a particular interest in the subject of cannibinoids in the treatment of childhood epilepsy. 
We know this is an area of particular interest to parents who are caring for children with complex epilepsies and therefore, there will be a significant portion of this webinar dedicated to this evolving subject. 
In the lead up to this pre-recorded session, we put a call out to parents on our social media platforms for questions to put to Dr. McCoy as part of our recording - these include issues surrounding puberty, emerging treatments, the ketogenic diet and the use of cannabinoids. 
Our Community Resource Officer, Veronica Bon will also be appearing live at this pre-recorded webinar to introduce the talk from Dr. McCoy and to take further questions which may arise during/following the session. (Note that these will not be able to be answered live however, Dr. McCoy has agreed to provide responses to any "general" questions which may be asked at a later date).
We look forward to welcoming you to this session on the night.
WHEN: Wednesday, 5th May 7pm
WHERE: Your home, via Zoom!
REGISTRATION
: To register for this event, click
HERE
. Please note, this event has been designed for parents of children with drug resistant/treatement resistant/complex epilepsies. If you have any questions on this, please contact Veronica on
vbon@epilepsy.ie
.