Tuesday, November 23, 2021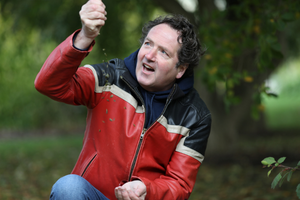 November marks MyLegacy month and this year the campaign is being fronted by celebrity gardener, Diarmuid Gavin.
The campaign is run by the umbrella group My Legacy, which is made up of 80 Irish charities – including Epilepsy Ireland - working together to raise awareness of the importance of legacy giving and the impact this can have for organisations across the Country.
MyLegacy month highlights the importance of ensuring that your affairs are in order for loved ones left behind and as part of this process, to consider leaving a gift to your chosen charity in your will.
With the campaign this year being fronted by well-known gardener, Diarmuid Gavin, the slogan for the campaign is "Plant a seed and grow your legacy".
This encapsulates the power and impact that legacy giving can have in organisations like Epilepsy Ireland. A gift, no matter the size, can grow and have a huge impact in supporting our work towards a society where no person's life is limited by epilepsy.
We have been privileged to be the beneficiaries of gifts over the last number of years. We would like to thank and remember all those who have remembered us in their will - Ar dheis Dé go raibh a n-anamacha.
If you would like to learn more about Legacy giving, please visit mylegacy.ie or alternatively, you can visit the legacy section of our website. If you would like to discuss the prospect of leaving a legacy to Epilepsy Ireland in total confidence and without obligation, please contact our Head of Fundraising & Development, Stephen Lowry on slowry@epilepsy.ie.