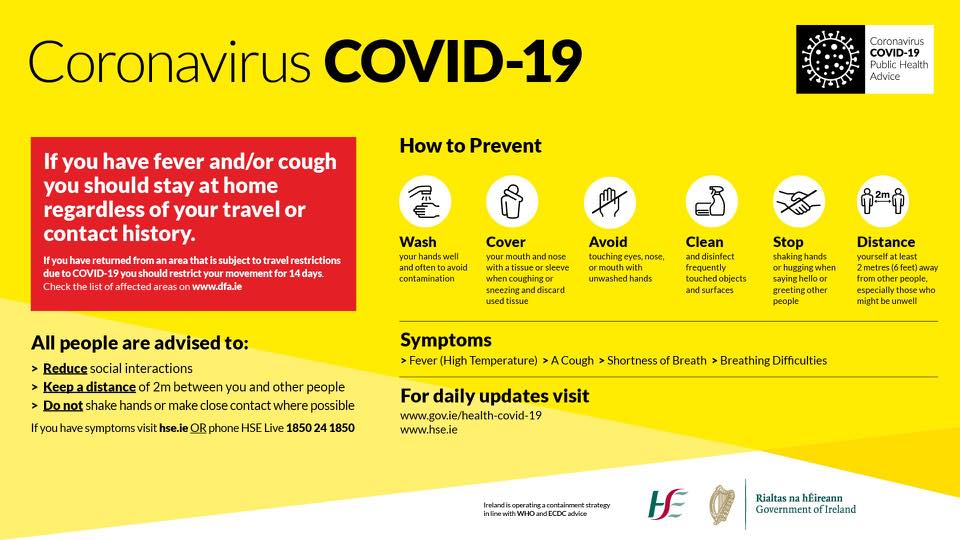 As the situation develops with regard to COVID19, our priority is to ensure that people with epilepsy and their families are receiving the most up to date, reliable information possible and to support official bodies with the messages they are trying to convey in so far as possible.
From the outset, there is no doubt that the current situation is unprecedented and is one that is causing worry & stress in every household across the country. For some people with epilepsy, stress can lead to seizures and if we can play a role in reducing their stress about the current situation, we will do our utmost to do just that.
Our Community Resource Officers, who are working from home and are still available to you (see contact details here), have reported that they are receiving some calls from people worried about the supply of epilepsy medication. 
First and foremost, as of this writing, we would like to state that there are no known supply issues with any epilepsy medication arising as a result of COVID19.
However we wanted to expand further on why people may be reporting shortages and how medication supply issues are officially reported.
In recent months, Brexit – and now COVID19 – have placed a heightened focus on medication shortages. HOWEVER, regardless of Brexit & COVID, medication supply issues have always existed and are not a new phenomenon. They are usually temporary in nature and are due to a shortage of ingredients or other issues affecting the manufacturing process.
With high public interest and no shortage of speculation surrounding the impact of Brexit and now COVID19, many people are worried about the availability of epilepsy medication despite the regulatory and industry reassurances. This is a very understandable worry.
The problem with this is, this worry often spilled over into social media, gained traction and caused further stress to an even wider group of people. As noted, for some people, stress can be a trigger for seizures and can make an already difficult condition even harder to manage.
If there are shortages, these will be reported to the Health Products Regulatory Authority (the HPRA).
The HPRA is responsible for co-ordinating the management of shortages of medicines on the Irish market. They work with a variety of stakeholders including manufacturers, wholesale distributors, pharmaceutical companies, healthcare professionals, the Health Service Executive, patients and representative groups to respond to potential shortages and reduce the impact of shortages on patients.
All current shortages will be listed by the HPRA  here.  If you have a concern regarding the availability of a certain medication, you can also search the name and quickly establish whether there is an issue or not.
Furthermore, it is important to note there can be local shortages of medication. For example, a medication may be unavailable at the pharmacy you usually use BUT it may actually be available at another outlet in the same area.  Generally speaking, most pharmacists will be able to advise on whether a national shortage is being experienced with a certain medication.
You will know that with any of our communications regarding COVID19 and in other health information in general, we urge everyone to follow information from trustworthy sources of information.
At Epilepsy Ireland we maintain close and regular contact with HPRA on a wide range of issues including the availability of epilepsy medications. We also link monthly with the Irish Pharmacy Union on the issue and we have channels of communication with most of the pharmaceutical companies supplying AEDs.
If we can establish an actual or impending epilepsy medication shortage, we will publicise it on our website and social media channels and do all we can to ensure that people with epilepsy and their families are kept informed. We will also make enquiries to check on reports of possible shortages reported by our members, so please get in touch with us if you experience issues around supplies.
We are highlighting this issue as over the past year, we have received a greatly increased volume of enquiries from people with epilepsy and their families - many of whom were extremely worried based on reports of shortages on social media.
While some of these did refer to actual shortages, many proved to be unfounded or were explained by a local or very temporary and easily-resolved issue. Even when actual shortages occur, most are short-lived and contingency plans are put in place to avoid causing harm to patients. Most shortages pass without any impact on patient care or safety.
We hope this eases some of the concern that seems to be circulating regarding the supply of medication.  As noted, should anything change with regard to any of the above, we will update our website and social media channels.
Should you have any questions on any of this, please feel free to get in touch with our National Information Officer, Geraldine Dunne on gdunne@epilepsy.ie, or our Communications Officer, Paddy McGeoghegan, on pmcgeoghegan@epilepsy.ie.
To summarise, points to remember with regard to medication supply:
Medication supply disruption can and will happen for a variety of different reasons
The HPRA is the first port of call to check whether there is a supply issue
Please check with us if you are concerned about the supply of a medication by emailing either Paddy or Geraldine
Please refrain from posting notices of shortages on social media as this can lead to often needless panic and stress for others. Please only post notices of medication shortages on social media if they have been confirmed by HPRA. Unconfirmed reports, while intended to help other people with epilepsy, may also have the unintended result of causing great anxiety and stress.
Remember that just because a medication is unavailable in one pharmacy, doesn't mean it's not available in another