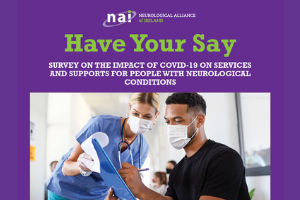 As part of their activities in the lead up to World Brain Day on July 22nd, our colleagues in the Neurological Alliance of Ireland (NAI) have launched a new survey aimed at measuring the impact of COVID-19 on access to services for people living with neurological conditions. 
We have been living through this pandemic for over a year now and  there has been an impact on access to services. As members of the NAI, we would appreciate if our members, supporters and followers could take a few minutes to complete the survey in order to provide a snapshot of the impact the pandemic has had on people with epilepsy.
You can access the survey by clicking HERE.