Last Update: July 2019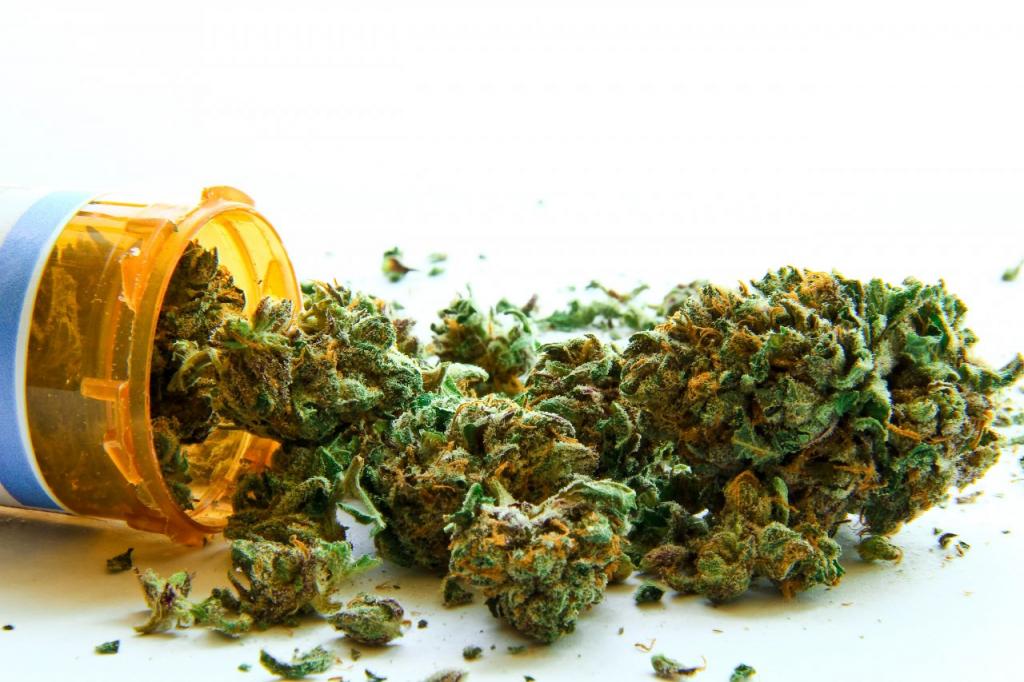 The use of medicinal cannabis to treat certain types of epilepsy and other medical conditions has been a topical issue in recent times. In this article, we will answer a number of the most frequently asked questions. Links are given throughout to further information. A list of further reading, as well as some pdf documents and videos are available at the end.
What is medicinal cannabis?
There are many different interpretations of what is meant by 'medicinal cannabis'. In general, the phrase "medicinal cannabis" does not refer to 'recreational' forms of cannabis that are taken for the high associated with the drug.
For epilepsy, much of the debate centres around cannabidiol (CBD), a non-psychoactive component of the cannabis plant that is often sold in 'oil' format. Medicinal cannabis can also be used to describe substances that contain both CBD and tetrahydrocannabinol (THC), the component that causes the high.
Some manufacturers of medicinal cannabis products make their products in accordance with Good Manufacturing Practice (GMP) certification. GMP is a codified set of rules that covers all aspects of the production process and is audited and certified by regulatory agencies. Note that GMP-certification does not mean that a product has been licenced or approved as a medicinal product by medicines regulators (e.g. HPRA in Ireland, FDA in the US etc.).
To date, only one pharmaceutical-grade CBD medication called Epidiolex has been approved by the US FDA for use in Lennox-Gastaut syndrome or Dravet syndrome in patients 2 years of age and older.
Does medicinal cannabis work in epilepsy?
This is a complex question that depends on what exactly is meant by 'medicinal cannabis'.
In recent years, a series of clinical trials on a CBD treatment called Epidiolex have shown promising results in reducing seizures in children with rare and severe epilepsies such as Dravet syndrome and Lennox-Gastaut syndrome (link 1; link 2; link 3).
In June 2018, Epidiolex received approval from the US FDA for use in these epilepsies. The drug is currently being reviewed in Europe by the European Medicines Agency and is expected to be approved in 2019 or early 2020.
To date, no other form of CBD or CBD+THC has yet been proven to be effective in high quality clinical trials.
There are still a number of unanswered questions from the clinical data that we have. As most studies so far have looked at Epidiolex as an 'add-on' therapy, we don't know if it is effective as a standalone drug or how it compares to other established epilepsy drugs. The studies so far have also focused on rare hard-to-treat paediatric epilepsy, so there is little evidence to show whether it is effective for other people with epilepsy.
Anecdotal evidence suggests that treatment with CBD-only products/oils may reduce seizures in some individual patients. However, as with any potential treatment, anecdotal evidence is never sufficient to establish whether or not a treatment has a proven efficacy and safety that would justify its widespread use.
The approval of Epidiolex in the US does not mean that other unapproved formulations of CBD oils and products (including those manufactured under GMP) can also be assumed to be equally effective. While GMP-certified medicinal cannabis products have assurances of high quality and consistency, non-GMP products can vary from batch to batch and some products purporting to be CBD have been found to contain no CBD at all (link).
There have also been positive anecdotal reports about products containing both THC and CBD but again, there is currently very little scientific evidence to support these claims.
A report by the Health Protection Regulatory Authority (HPRA) in February 2017 found a lack of scientific data to demonstrate the robust effectiveness of any form of medicinal cannabis. It stated that there was "At best, a moderate benefit for cannabis in a small number of conditions and conflicting evidence, or no evidence at all, in a large number of other medical conditions. The effectiveness and safety of cannabis in large numbers of medical conditions is simply not proven." In addition, "The HPRA considers that there is not currently evidence that cannabinoids are an effective treatment in epilepsy".
In the UK, an All Party Parliamentary Group report by Professor Michael Barnes of Newcastle University found that there is a reasonable evidence base for cannabinoids in the management of chronic pain, spasticity and nausea/vomiting in the context of chemotherapy. However, his detailed report also concluded that cannabis has limited effectiveness in relation to epilepsy.
"Whilst there is a theoretical basis and animal model studies and early human studies are promising, at the moment robust trials are lacking but further results are awaited. There is only limited evidence at the moment", he said.
While recent studies involving Epidiolex have since added to the evidence base, it is important to note that the comments above are still applicable to all other formulations of medicinal cannabis in epilepsy.
Are there side-effects?
All medicines can potentially have side effects and a significant amount of caution is needed regardless of the drug. Medical supervision is also essential and you should always talk to your medical team before making any changes to your epilepsy medication. If you are taking any form of medicinal cannabis, it is also very important that you tell your doctor as CBD has been shown to interact with certain anti-epileptic drugs (AEDs) and your doctor may need to adjust your AED dosage accordingly.
In relation to side-effects, the 2017 HPRA report stated that "the medical treatment of children and adolescents with cannabis requires careful consideration due to the potential impact on the developing brain. In addition, there is compelling evidence linking cannabis use in adolescence with the development of psychosis in later life."
There are particular concerns regarding the long term effect of THC on mental health and some studies have also shown that THC may be pro-convulsant in some cases (i.e. it makes seizures worse).
Non-approved CBD products are not required to list side effects, but the clinical trials conducted on Epidiolex identified a number of common side effects, which generally were regarded as mild or moderate. These included sleepiness, sedation and lethargy, elevated liver enzymes, decreased appetite, diarrhoea, rash, fatigue, malaise and weakness, insomnia, sleep disorder and poor quality sleep and infections. For more, see the drugs.com page on Epidiolex.
Are any cannabis-based treatments already legal?
A cannabis-based product that does not contain THC is legal in Ireland. Therefore, CBD oils and products such as Charlotte's Web are available in Ireland, marketed as food supplements. For any of these products, no scientific efficacy or safety data exists, and in many cases, there are significant concerns over the composition and quality control of the products.
If a substance contains THC (the psychoactive element), then it is illegal under the Misuse of Drugs Acts. Exceptions to this are:
Are there any licenced cannabis-based medications available for epilepsy?
A UK company, GW Pharmaceuticals are the leaders in the pharmaceutical application of cannabis. Their drug Sativex has been licenced for treating spasticity in MS. Sativex contains THC and needed a statutory instrument to be exempt from the Misuse of Drugs act. HSE have yet to agree a price with GW, so the drug is still not reimbursed in Ireland. Sativex is not considered to have any therapeutic use in treating epilepsy.
As outlined above, GW has also developed a drug called Epidiolex which was granted FDA approval in the US in June 2018 for use in Lennox-Gastaut syndrome and Dravet syndrome, in patients two years of age and older.
The drug is currently being reviewed in Europe by the European Medicines Agency and is expected to be approved in early 2019.
Nabilone is licenced in some countries for nausea and vomiting associated with chemotherapy but is a Schedule 2 drug in Ireland. There are no other licenced medications in Ireland containing CBD or THC.
Note that products to be supplied under the Medicinal Cannabis Access Programme are not licenced medical products.
What is the Medicinal Cannabis Access Programme?
The 2017 HPRA report was clear that any decision to permit access to cannabis for medical use would be a societal and policy decision rather than a scientific one. It recommended that if treatment with cannabis is permitted it should be under tight control and in limited circumstances. Three conditions were highlighted including "Severe, refractory (treatment-resistant) epilepsy that has failed to respond to standard anticonvulsant medications whilst under expert medical supervision".
Following this, the Minister established an Expert Reference Group to recommend guidelines on how an access programme could be established; in what circumstances medicinal cannabis could be supplied and what form this might take. Following a consultation process that included Epilepsy Ireland, the group produced clinical guidelines in 2018. However, progress was slow due to delays in finding a quality assured supplier of cannabis products that can export its products to Ireland.
The Medical Cannabis Access Programme (MCAP) was finally established in law in June 2019 via three Statutory Instruments (SI 262, SI 281 and SI 282).
The Programme will enable a medical consultant to prescribe a cannabis-based product for a patient under his or her care for the following medical conditions, where the patient has failed to respond to standard treatments:
spasticity associated with multiple sclerosis;
intractable nausea and vomiting associated with chemotherapy;
severe, refractory (treatment-resistant) epilepsy.
The legislation means that commercial operators whose cannabis products meet the specified requirements set out in the legislation can now apply to supply these products to the Irish market. The HPRA will then assess these products for suitability for medical use.  Only products approved by HPRA and included on "the schedule of specified controlled drugs" can be prescribed by consultants under the programme.
As of July 10th 2019, no medical cannabis products are available in Ireland. It is therefore not possible to be prescribed a cannabis-based product at the moment. Once the scheme is fully operational, patients will need to be enrolled in the Medical Cannabis Access Programme by their consultant. HSE will maintain a Register recording data on the utilisation of the programme.
Crucially, and as called-for by Epilepsy Ireland, the HSE will meet the cost of approved cannabis products under the Long-Term Illness Scheme, GMS (Medical Card) Scheme and the Drug Payment Scheme on a named-patient basis. Authorisation is subject to the patient having a qualifying medical condition, standard approved treatments have been exhausted and the prescription has been issued by a consultant. Note that enrolment on the Programme does not automatically mean approval for reimbursement.
Pharmacists will be able to dispense products as normal.
It is not known exactly when the Programme will be fully operational. However, the Minister has indicated that he expects access to begin in the autumn. In the meantime, consultants may still utilise the Ministerial licencing route (below) to access medical cannabis products for their patients.
Can the Minister for Health authorise a cannabis product?
It is currently within the Minister for Health's powers to issue a licence for a THC-containing product that would otherwise be illegal. This power is not affected by the introduction of the MCAP.
To date, over a dozen licences have been applied for and approved by the Minister (for example, see link and link). However, an application cannot be approved by the Minister without the explicit support of a specialist, who must make the application. The Minister does not have any other powers to intervene in the doctor-patient relationship. 
In August 2018, the Department of Health produced a guide for the public and medical professionals.
The Department has also produced a template which may be used to draft a licence application.
What is the status of the proposed Medicinal Cannabis legislation?
Gino Kenny TD introduced the Medicinal Cannabis Bill to the Dail in 2016.  Following initial cross-party support, significant opposition was expressed when debated at committee stage and it is widely acknowledged that significant changes were required in order to make the legislation workable. See Irish Times article.
As of July 2019, it seems unlikely that the Bill will progress further due to numerous concerns including references to recreational use, the proposed role of medical professionals, the setting up of two new 'quangos' and the separation of medicinal cannabis regulation from the regulation of all other medicines.
How does it work in other countries?
Medicinal cannabis laws have been introduced in a number of countries. In the EU, this includes Netherlands, Italy and Czech Republic. Other programmes exist in Canada, Israel, Australia and in many US states. Other countries, including in the EU have programmes for 'exceptional use' or are in the process of revising laws. There is no uniform system and access programmes differ substantially across the world. There is more on this in the HPRA Report. The UK situation is very similar to Ireland and in August 2018, a review of the legal position of medical cannabis was announced by the UK Government. In November, medicinal cannabis was made legal in the UK but access remains limited due to safety and efficacy concerns. See the British Paediatric Neurology Association guidelines and for a thorough analysis of medicinal cannabis in the UK, visit the Epilepsy Action website.
What is the Medical Profession's stance on medicinal cannabis?
The National Epilepsy Clinical Care Programme (NECCP) has issued a statement in 2017 highlighting the lack of scientific evidence for all cannabis products other than Epidiolex. They state: "No other cannabis derivatives or products have been adequately studied to a level that they are proven to be effective and safe to use in clinical practice. Specifically, products containing THC remain inadequately tested."
What is Epilepsy Ireland's position on medicinal cannabis?
Given the devastating impact of rare epilepsies like Dravet Syndrome and the limited success of existing drugs in treating these conditions, it is understandable that many affected families are reaching out for the potential benefits provided by medical cannabis. 
Epilepsy Ireland has long held an evidence-based position on medical cannabis and we agree with the path recommended by the HPRA in 2017. We also fully support the position of the NECCP and with the need for further research on all aspects of medicinal cannabis.
Our current position (which may evolve as more evidence becomes available) can be summarised as follows:
As an organisation that funds epilepsy research, Epilepsy Ireland welcomes all research that seeks to develop safe and effective treatments for epilepsy including trials on cannabis-based products that may lead to approved medical treatments.
We welcome the approval of Epidiolex in the US for certain rare childhood epilepsies following a series of robust clinical trials (link 1; link 2; link 3). We hope that it will shortly be approved for use in Europe in the near future and we will advocate for access to the drug in Ireland once approved.
A clear distinction needs to be drawn between approved medications such as Epidiolex that have undergone rigorous efficacy and safety testing and non-pharmaceutical products (whether CBD or CBD+THC) that are not licenced for medicinal use. While there have been positive anecdotal accounts of some of these products, no robust evidence from high quality scientific studies exists to support the use of non-pharmaceutical cannabis-based products for the treatment of epilepsy. In the absence of robust evidence, these products cannot currently be considered as safe or effective treatments to the same degree as regular approved medications.
In particular, there are serious concerns about the safety and risks associated with unregulated, un-standardised non-pharmaceutical products containing cannabis extracts, especially those that contain THC. While GMP-certification offers assurances around manufacturing, quality and consistency, it does not elevate cannabis products to the status of approved medications.
Given the largely unregulated marketplace that currently exists, the June 2019 legislation establishing the Medicinal Cannabis Access Programme is to be welcomed. We support the Programme as a safer, more regulated pathway to enabling access to last-line alternative treatment options for people who could potentially benefit from them. We welcome the role that the HPRA will have in determining and regulating manufacturing and labelling criteria. The MCAP will also enable valuable data collection to inform patients and medical professionals about the role that cannabis products may play in epilepsy treatment in the years to come. We also hope that the programme will enable full and open communication between patients and doctors, an important consideration in light of the potential interactions that can exist between cannabis products and epilepsy medications.
As with any potential treatment, further research, in the form of well-regulated clinical trials represent the only safe and objective way to assess the potential of cannabis based products in the mainstream treatment of epilepsy. Epilepsy Ireland has invited applications under our Research Funding Scheme from researchers who want to pursue this area of research.
We do not have a position on the legal status of cannabis for recreational or non-medical purposes.
Important Note: Please talk to your doctor/ epilepsy nurse about any concerns relating to your medications, or if you are using/ considering using cannabis-based products.
More Information