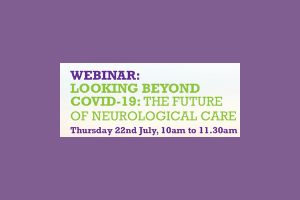 As part of World Brain Day on July 22nd, our colleagues in the Neurological Alliance of Ireland (NAI) are hosting a webinar focused on neurological healthcare post-pandemic. 
While the last number of months has been characterised by challenges for our health service, there has also been a lot of invaluable insights gained as to how our health and neurological services can operate in a post pandemic era.
The webinar will involve input from experts, stakeholders and Epilepsy Ireland will also be contributing to the webinar through our CEO, Peter Murphy.
The webinar is open to everyone and if you would like to attend, please see details below:
WHEN: World Brain Day, July 22nd, 10:00am to 11:30am:
WHERE: Your home, via Zoom!
REGISTRATION:
To register, click
HERE.
Agenda
Opening Presentation:
European Federation of Neurological Associations (EFNA)
World Health Organisation Framework on Neurological Disorders
Panel Discussion:
Neurological Care beyond COVID-19: A catalyst for change?
Chaired by June Shannon, Medical Journalist
Panel Members:
Professor Orla Hardiman: National Clinical Lead for Neurology
Dr Amanda Carty: Programme Manager: Outpatient Services: National Rehabilitation Hospital
Dr Susan Coote: Chartered Physiotherapist Specialising in Neurological Rehabilitation
Gary Boyle: Patient Advocate Living with Parkinson's Disease
Peter Murphy, Chief Executive Officer, Epilepsy Ireland
Professor Norman Delanty, Consultant Neurologist and Principal Investigator Futureneuro: SFI Research Centre for Rare and Chronic Neurological Disorders
While this webinar is looking at post-pandemic era, we must remember that we are still living during a pandemic. While there is reason to be hopeful with the vaccination programme, the virus has not gone away. #HoldFirm with public health guidelines. You can read more on COVID-19 and epilepsy on our mini-site HERE and please do not hesitate to contact your local Community Resource Officer if you need any advice or support with your or your family member's epilepsy during this time.