Thursday, September 2, 2021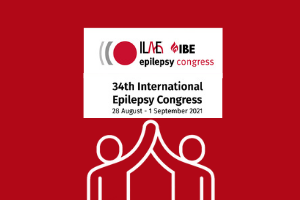 A huge congratulations to Oliver Kilmartin, whose continued passion for raising awareness of epilepsy was acknowledged by the International Bureau for Epilepsy at the recent 34th International Epilepsy Congress.
Oliver has been involved with Epilepsy Ireland from a young age, first speaking publicly about his epilepsy as a teenager in 2012.
More recently, he was also one of the faces of our #EpilepsyDay campaigns for 2020 & 2021.
Oliver was one of 19 international winners of the IBE's "Golden Light" awards – which acknowledges those who passionately raise awareness of epilepsy across the globe. We were delighted to see Oliver's continued efforts rewarded. Congratulations and well done!
However, there was plenty of other Irish involvement in the International Epilepsy Congress as well.
We were delighted to see the fantastic ongoing work on the Epilepsy Patient Portal project highlighted during the Presidential Symposium at the congress as an exemplar of how technology can improve epilepsy care (see more here).  The e-portal (known as PiSCES) has been developed by researchers in the RCSI and FutureNeuro through Health Research Board grants, co-funded by Epilepsy Ireland. The e-portal enables patients and caregivers to interact with their medical records and team.Users can see their clinical files, consultation notes, records of their care, and can add comments and notes for discussion etc. Its aim is to establish a partnership between clinicians and patients for the betterment of the patient's care and to increase knowledge in users about their own care plan. The Presidential Symposium is arguably the "main event" of the congress and is attended by thousands of epilepsy professionals from across the globe. It was fantastic to have Epilepsy Ireland supported research featured so positively at the congress and it is an outstanding acknowledgment of the work which has gone into this research by the team at FutureNeuro.
Dr Stephen Klaus (St James's Hospital) presented a poster on his work on the impact of driving restrictions in epilepsy. The project is being funded by Epilepsy Ireland into investigate the societal and emotional impacts that driving restrictions can have for people with epilepsy (learn more here).
Throughout the week, several Irish clinicians and scientists delivered presentations on the latest in research and epilepsy care:
Dr Cristina Ruedell Reschke (RCSI) chaired a session on basic science
Dr Gianpiero Cavalleri presented on the role of genetic variants in a session on epilepsy genetics
Prof Geraldine Boylan (UCC) spoke on the diagnosis of neonatal seizures
Dr. Cian McCafferty (UCC) chaired a session on the role of the microbiome in epilepsy
Patrick Maloney (RCSI) spoke about the potential of Everolimus as a precision therapy for drug-resistant epilepsy
Prof David Henshall (RCSI) chaired sessions on epigenetics and epileptogenesis, which also included a presentation from Karen Conboy (RCSI)
Dr Christine Linehan (UCD) spoke at a session on intellectual disability.
Finally,  congratulations to Epilepsy Ireland volunteer, Lorraine Lally who played a key role in the IBE Day – hosting a session on "Empowering Youth to Raise their Voices". This session was designed at encouraging young people to speak more openly about their epilepsy in an effort to help others understand the condition. 
Oliver & Lorraine are just two of many fantastic volunteers who are passionate about raising awareness of epilepsy. Thank you to both for all your work.
Events such as the #IEC20221 are also a reminder of the ongoing importance of epilepsy research in improving understanding, treatments and care. We have great expertise in Ireland and Epilepsy Ireland is proud to support researchers here in contributing to international research efforts. Without your continued support, we would not have been able to invest in research projects like those on the e-portal and driving restrictions. Please continue to support EI's work - together we can achieve a society where no person's life is limited by epilepsy.