February 14th 2022 marks International Epilepsy Day - a major day for epilepsy awareness across the globe.  Also, as you may have noticed, the day also falls on Valentine's Day so we'll be asking people to share the love with people with epilepsy and their families by learning more about the condition.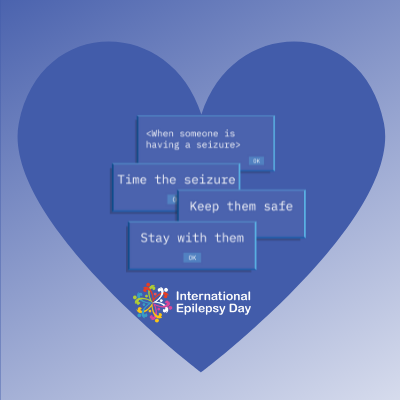 International Epilepsy Day is a campaign jointly led by the International Bureau for Epilepsy and the International League Against Epilepsy; while Epilepsy organisations across the world take part in the day in order to raise awareness of the condition in their countries. 
The day is an opportunity for people with epilepsy and their families to share their experience with epilepsy to reduce the stigma that is associated with the condition and to educate the general public about epilepsy. 
Epilepsy Ireland will be devising a specific campaign to be launched on the day (stay tuned to our website and social channels for more on that for more on that!) but you can help in several ways in advance of #EpilepsyDay and on the day itself. We have listed some of these ways below.
Educate people on Seizure first aid by sharing our key message of TIME – SAFE – STAY.
For many people with epilepsy, the key thing they want the wider public to know about the condition is what to do in the event of a person having a seizure. There are a lot of myths associated with seizures and seizure first-aid. Because of this, we often talk about what not to do rather than what to do in the event of a person having a seizure. #EpilepsyDay 2022 will see us revisit our key messaging from our Epilepsy Day campaign from 2021 and we are seeking to reinforce the message of TIME – SAFE – STAY amongst the Irish Public. You can help support this by sharing a message on your social media outlining the three key steps or by simply talking to friends and family about these key messages, which are outlined below:
TIME – If you see a person having a seizure, TIME the seizure. This is because if the seizure goes over 5 minutes, it is potentially dangerous, and an ambulance will need to be called.
SAFE – Keep the person having the seizure SAFE. Cushion their head if possible and remove any harmful objects from around them but never restrain them, pin them down or put anything in their mouth.
STAY – After the seizure has ended, STAY with that person. After a seizure, a person with epilepsy will often feel exhausted and be dazed & confused. Stay with them, talk gently and let them know they will be okay.
Dress up your social and share a post to raise awareness!
We have a number of image available to download that you can use as your cover photo on your preferred social media channel in an effort to raise awareness and to share our key message of TIME - SAFE - STAY. Visit the dropbox link below to download your new cover photo or for an image to share alongside your post about #EpilepsyDay!
Become a Media Volunteer!
Epilepsy Ireland has a dedicated list of media volunteers who we can call upon should we get specific requests from local or national media seeking to discuss epilepsy. There is specific interest from the media from hearing from people on this list, particularly around days like International Epilepsy Day. The more people we have on the list, the better, as everyone's experience of epilepsy is different.
If you're interested in joining, we're always looking to add to these lists. Please contact our Advocacy & Communications Manager Paddy McGeoghegan on pmcgeoghegan@epilepsy.ie.
Don't worry - by being on these lists you won't be asked to go onto the Late Late Show with 5 minutes notice! In short, you won't be asked to do anything you're not comfortable with!
Share your story in advance of #EpilepsyDay!
Key to helping people understand epilepsy is hearing from people living with the condition. This allows the public to learn more about the individual nature of the condition; how people can have different types of seizures; how the condition is so much more than seizures; and what to do in the event of a person having a seizure. 
By sharing your experience, you can help reduce the stigma associated with epilepsy and make the wider public better understand epilepsy. You can do this by sharing your story either by video or through written testimony on your own social media channels. Be sure to tag Epilepsy Ireland so we can reshare your efforts!
If you choose to provide a written testimonial or record a short video detailing your epilepsy, please remember the following points
Plan your message
Think about what you want people to know about epilepsy. Epilepsy is of course a complex condition so remember that your audience might include people who have no idea or experience of epilepsy. Think about the key points you want to leave them with and focus on that message. Don't worry about having it perfect on the first draft – just send it on to us and we'll work together on the final version! One way to approach your testimony is to note down a few bullet points as a guide where you can discuss and expand on each of these points throughout your testimonial.
Testimonial length
We are often asked how long testimonials should be, but your experience and the key points you want to discuss is personal to you. Due to the complexities and varying experiences of epilepsy, asking how long a testimony should be is like asking how long a piece of string is! If you follow the advice above of identifying your key points that you want to address and then speaking/writing about them, then that is a good starting point. You can then send your first draft onto our team, and we will work with you to help ensure that your story makes maximum impact. We will not be looking to edit or amend your experience but will be looking at it from the perspective of different audiences and help assist you in telling your story.
Record in a quiet place and keep yourself in frame 
If you're recording your story, its best to keep yourself in frame because we'd like to see you! Also, a quiet corner of the house is the best place to do a recording – we want to hear you, not the TV in the background. Many of the video testimonials that have been shared with us have all been recorded on camera phones so there's no need for fancy technology! Visit our Youtube channel and watch Megan's story; Aoife's story; or Ruth's Story.
As part of this section, we'd also like to make a specific appeal to men with epilepsy. It is fair to say that on several fronts, Irish men might be a bit more hesitant in speaking about various aspects of their lives. This is the same when it comes to epilepsy and there are patterns emerging whereby it seems that women with epilepsy are much more open to speaking about their condition than their male counterparts. While we have had fantastic testimonies from men over the years and have wonderful male media volunteers, there is certainly an imbalance. It would be fantastic to have more personal testimonies from men living with epilepsy in the lead up to International Epilepsy Day.
If you want to tell your story in advance of Epilepsy Day 2022, please contact our Advocacy & Communications Manager Paddy McGeoghegan on
pmcgeoghegan@epilepsy.ie
.
See Kate's video below:
Like and share our posts about #EpilepsyDay and follow our social media channels.
In this COVID-19 environment, the importance of a like and a share cannot be underestimated. By simply letting people know about #EpilepsyDay, you can help encourage your friends and family to learn more about a condition that affects 40,000 people in Ireland today and to learn more about our work across the country. Equally, encourage your friends and family to follow our channels. The greater the audience, the more people we can reach to educate about epilepsy!
Take part in the 50 Million Steps Campaign!
In the lead up to International Epilepsy Day, an international virtual steps challenge is also taking place. Will you help us collectively walk 50 Million Steps for Epilepsy?Find out more about this at the link below.
https://www.epilepsy.ie/content/50-million-steps-epilepsy
Thank you for your support and let's make this the best #EpilepsyDay yet. We can't wait to share details of our 2022 campaign with you but in the meantime, why not look back on our "As Many Myths as Seizures" campaign from #EpilepsyDay 2020 and our TIME – SAFE – STAY campaign from #EpilepsyDay 2021!