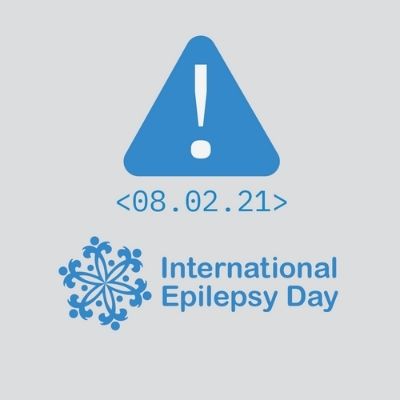 February 8th 2021 marks International Epilepsy Day - a major day for epilepsy awareness across the globe. 
International Epilepsy Day is a campaign jointly led by the International Bureau for Epilepsy and the International League Against Epilepsy; while Epilepsy organisations across the world take part in the day in order to raise awareness of the condition in their countries. 
The day is an oppurtunity for people with epilepsy and their families to share their experience of epilepsy in an effort to reduce the stigma that can still unfortunately be associated with the condition and to educate the general public about epilepsy. 
Epilepsy Ireland will be devising a specific campaign to be launched on the day (stay tuned for more!) but you can help in a number  of ways in advance of #EpilepsyDay and on the day itself. We have listed some of these ways below:
1) Take part in the #50MillionSteps challenge.
While staying safe within your 5km, you can clock up some steps in the name of epilepsy awareness.  Read more about the #50Million steps challenge
HERE.
2) Share your story and experiences in advance of and on the day itself
A key to helping people understand epilepsy is by hearing from people who are living with the condition. This allows them to learn about the individual nature of the condition; how people can have different types of seizures; how the condition is so much more than seizures; and what to do in the event of a person having a seizure. 
By sharing your experience, you can help reduce the stigma associated with epilepsy. You can do this by sharing your story either by video or through written testimony on your own social media channels and be sure to tag Epilepsy Ireland as well!
If you choose to record a short video, remember the following:
-Plan your message: think about what you want people to know about epilepsy. Epilepsy is of  course a complex condition so remember that you might be speaking to people who have no idea or experience of epilepsy. Think about the one key point you want to leave them with and focus on that message
-Keep it short: with the explosion of social media, our attention spans have unfortunately wained so it is recommended that social media videos are approximately 3mins long (we know this is easier said than done but something to bear in mind!)
-Record in quiet place and keep yourself in frame: if you're telling your story, those vieiwing will want to see and hear you so be conscious of your surroundings!
Check out Megan's video below that she has recorded in advance of #EpilepsyDay 2021!
Feel free to contact our Communications Officer, Paddy McGeoghegan on pmcgeoghegan@epilepsy should you require any support or advice on the above. 
3) Become a media volunteer!
Epilepsy Ireland has a dedicated list of media volunteers who we can call upon should we get specific requests from local or national media seeking to discuss epilepsy. If this is of interest to you, we're always looking to add to these lists. Please contact our Communications Officer Paddy McGeoghegan on pmcgeoghegan@epilepsy.ie if this is of  interest to you - don't worry either, by being on these lists you won't be asked to go onto the Late Late Show with 5 minutes notice - in short, you won't be asked to do anything you're not comfortable with!
4) Tell friends and family to get their "degree"!
We have a section on our website where the general public can get their "degree" in epilepsy awareness. This is designed as a one-stop shop for those who may not have any understanding of the condition to give them a brief oversight of the condition. Click HERE to get your degree.
5) Like and share our posts about #EpilepsyDay and follow our social media channels.
In this COVID-19 environment, the importance of a like and a share cannot be underestimated. By simply letting people know about #EpilepsyDay, you can help encourage your friends and family to learn more about a condition that affects 40,000 people in Ireland today and to learn more about our work across Ireland. 
Equally, encourage your friends and family to follow our channels! The greater an audience we have, the more people we can reach to educate about epilepsy.
Thank you for your support and lets make this the best #EpilepsyDay yet. In anticipation of the Epilepsy Day 2021, why not take a look back on our campaign from last year by clicking HERE.