Friday, November 27, 2020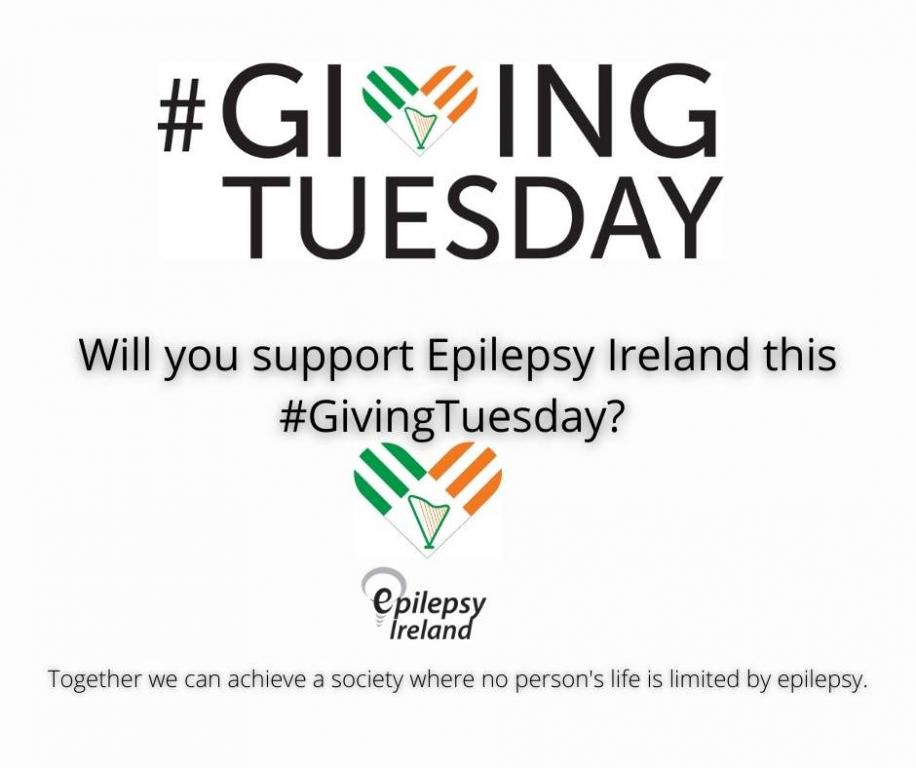 While #BlackFriday is the focus of many today, we are asking you to think of another day - #GivingTuesday.
After all the bargain hunting has ended, #GivingTuesday has grown to be a global day of charitable giving. We are asking you to consider donating to our work on Giving Tuesday - to help us continue our work on the behalf  of people with epilepsy and their families. 
Every donation; no matter the size; will help us continue our work on behalf of the 40,000 people living with epilepsy in Ireland today. We've highlighted some aspects of our work below on how your donation can support our work.
Please donate by clicking HERE
Investing in Irish Epilepsy Research: The more we know, the better we understand, The better we understand, the more we can help people. That is the importance of research in a nutshell and we are immensely proud to have invested over €1m in Irish Epilepsy Research over the past decade. You can read more about the projects we have funded HERE.
Education and awareness on Epilepsy: We have a number of campaigns year round which focus on raising awareness of this condition which affects 40,000 people in Ireland today. These include Purple Day, Brain Awareness Week, World Brain Day, National Epilepsy Week and International Epilepsy Day to name but a few. Our International Epilepsy Day campaign focussed on a number of myths around epilepsy. Sort the myths from the facts HERE.
Working in communities across Ireland: The core of what we do is through our team of Community Resource Officers across Ireland. They are there for people with epilepsy and their families to help advise them on living with the condition; how best to manage it; and are there for them when the condition can be at its most challenging. In 2019, 21,821 people made contact with our service. To read more about what we do, see our annual report for 2019 HERE.
Working with professionals in communities across Ireland: Our team also work with workplaces, schools and healthcare settings to educate them on epilepsy awareness. One aspect of this is our course on the administration of Buccal Midazolam. This is a rescue medication which can help bring a person out of a prolonged, potentially life-threathening seizure and helps avoid hospital visits or care. Our team train professionals such as teachers or SNA's so they can adminster to a child with epilepsy who may be having a seizure in the classroom. The following is a quote from a recent participants at such a course: "This was a wonderful course; it has really reassured me and I am now looking forward to caring for these kids instead of being terrified."
Working with young people with epilepsy to help them pursue their goals: Due to the nature of epilepsy, it can be something that impacts on a person's educational or social development. This is why we established Training For Success - a dedicated course for young people with epilepsy in IT Sligo aimed at helping them get into the workforce or onto further education. Over 80% of our graduates have done just that and you can read more about Training For Success HERE.
Advocating for people with epilepsy and their families: Whenever and wherever possible, we will put forward the perspectives of people with epilepsy and their families to Government, members of the Oireachtas, policy-makes and Department officials in order to enact positive changes in the lives of people with epilepsy. We identified a number of issues important to people with epilepsy and their families as part of the 2020 General Election. Most recently, we achieved significant progress on one of our key advocacy priorities alongside our colleagues in OACS Ireland with the announcement of an inquiry into Sodium Valproate. You can read more on that HERE.