Wednesday, November 17, 2021
When the wearing of masks was first introduced in Ireland as a measure to combat COVID-19, we received a lot of questions from people with epilepsy around this. The questions outlined below are the most common questions we received on this.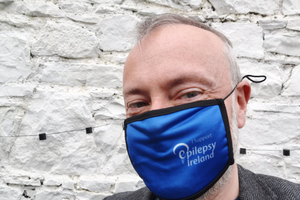 Why are there concerns about the wearing of masks from some people with epilepsy?
For some people with epilepsy, hyperventilation can lead to increased seizures. However, this is likely to be an issue for only a small minority of people with epilepsy. This issue was addressed in a review article which concludes that on balance it is not reasonable to recommend against mask wearing for people with epilepsy, especially considering that in most cases, they only need to be worn in crowded areas and for a limited period of time.
In addition, there is concern from people who may be anxious about wearing a mask. Stress and anxiety can lead to seizures. While the wearing of a mask itself may not lead to a seizure, stress and anxiety around the wearing of one could theoretically do so.  
The wearing of a mask is proven to be an effective preventative measure in the fight against COVID-19 so we would encourage every person with epilepsy to do their utmost to comply with the regulations in so far as possible.  If you have particular concerns, please contact us or get in touch with your GP.
My seizures are well-controlled but I have heard that there are exemptions for those who have long-term health conditions. Do I still have to wear a mask?
The criteria set out by the Government acknowledges that there may be people who may not be able to wear a mask which we have listed below:
trouble breathing
unconscious or incapacitated
unable to remove it without help
special needs and who may feel upset or very uncomfortable wearing the face covering
young children aged under 13
However, there are no specific conditions (e.g. epilepsy) listed as exempt under the currrent criteria for wearing a mask. We recommend that people with epilepsy should follow the guidance on mask wearing insofar as possible.
My seizures aren't well controlled. Should I still wear a mask?
A mask is proven to be one of the best preventative measures for reducing the spread of COVID-19 so you should do your utmost to comply with Government advice. If your seizures are uncontrolled and if you are excessively uncomfortable or anxious with wearing a mask, we have listed some tips below which you may find of benefit:
Try not to wear the mask for long periods of time if you can, but take short breaks in a safe location where you are not in close contact with others. 
If possible, go out with a member of your household or close circle who would be able to assist you if you have a seizure. Your friend or family member would be able to remove your mask during the seizure.
If you do have a seizure and are on your own while wearing a mask; we are confident that a member of the Irish public would stay with someone who is having a seizure, keeping a safe distance while they call for an ambulance or apply seizure first aid. Seizure first aid posters are available for download at the end of this article. 
What should a person do if I have a seizure while I am wearing my mask?
Where possible, it is helpful to remove a person's mask if they are having a seizure or if they are in the recovery stage. This will facilitate their breathing. It is important for the person assisting to safeguard themselves from potential exposure to COVID-19 through precautionary measures such as hand sanitisation (if possible) before assisting. 
How do I wear a facemask correctly?
It is important to ensure that you are wearing your mask correctly. See the below image as a very useful guide!


I don't feel comfortable wearing a mask and don't feel that I can wear one in public. Can Epilepsy Ireland provide me with an exemption card?
Under the guidelines issued by the Government, you are not obliged to produce evidence as to why you cannot wear a facemask and a self-declaration of your reasoning should suffice. In addition, should evidence be demanded e.g. by a private business, then it is likely that a GP letter rather than a standard 'card' printed from the internet would be required so we therefore do not provide cards. You can read more on this guidance on the HSE website here.
Can I wear a visor instead of a mask?
The HSE have noted that cloth face coverings are superior to visors and are advising people to wear masks. However, as part of their advice, they have noted that visors can be used as alternative in limited circumstances for:
-People with breathing difficulties
-People who are unable to remove masks/face coverings without help
-Anyone with particular needs who may feel upset or very uncomfortable wearing the mask/face covering
-In settings where people who have learning difficulties or hard of hearing or deaf are present.
The HSE advice is based on expert opinion and international guidance which indicates that cloth face coverings or masks are more effective than visors. A research paper on the use of visors compared to masks is available
here
for your information. Please do your utmost to wear a mask to help prevent the spread of COVID-19.
Should my child with epilepsy wear a facemask?
Regulations around the wearing of facemasks do not apply to children under 13 unless they are in secondary school. 
Is there any evidence emerging about facemasks and epilepsy?
A review article was published in the medical journal Acta Neurologica Scandinavica by epilepsy experts Dr Ali Asadi-Pooya and Prof Helen Cross. You can read more on this paper here.
Where can I get a facemask?
We have our very own Epilepsy Ireland facemasks available in our shop; you can get yours HERE. By purchasing one or our masks, you will be protecting yourselves and others while supporting our work across Ireland.
RETURN TO COVID-19 & EPILEPSY MINI-SITE.