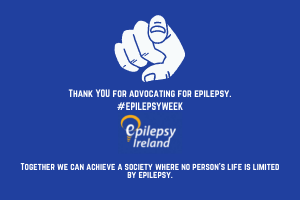 We would like to thank everyone for their support throughout Epilepsy Week. 
Throughout the week we shared details on a number of issues which are impacting on people with epilepsy and their families and encouraged people with epilepsy, the public and politicians to #AdvocateForEpilepsy in an effort to have these many matters addressed. 
We received a very positive response and we hope that this extra focus created through Epilepsy Week will act as a catalyst for change on these issues.
We would be keen to point out however that just because Epilepsy Week has ended does not mean our campaigning on these matters has stopped. We will continue to pursue these with members of the Oireachtas at every available oppurtunity in an effort to have them addressed. Likewise, you can use your voice at any stage to contact your local representative in support of these matters. 
We now have a new Advocacy section on our website where you can learn more about the issues we are highlighting. You can access this HERE. 
Thank you once again for your support and together, we can achieve a society where no person's life is limited by epilepsy.