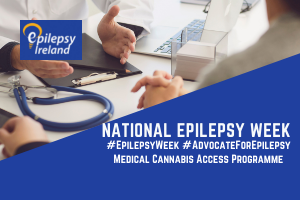 On the Thursday of #EpilepsyWeek, we focus on an issue which had to addressed before the launch of the Medical Cannabis Access Programme. 
As the programme is being prepared for launch, approved products which will be able to be accessed under the programme have been added. To date, 4 products have been approved.
Severe, refractory (treatment-resistant) epilepsy (including Dravet syndrome and Lennox-Gastaut syndrome) are listed conditions under the MCAP. However, to date, none of the 4 products which have been added to the programme are suitable for use in epilepsy as they do not meet the Department of Health's own clinincal guidelines. 
Before the programme is launched, a product suitable use in Epilepsy has to be added to the programme is order to make it accessible to clinicians treating patients with epilepsy. You can read more on this HERE.
**Please talk to your doctor or epilepsy specialist nurse if you are using or considering using any cannabis-based product.**
Further reading:
#EpilepsyWeek #AdvocateForEpilepsy