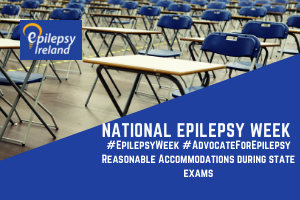 Today as part of #EpilepsyWeek, we are highlighting an issue which specifically impacts on our young people with epilepsy who are sitting their Leaving Certificate. 
Currently, if a student with epilepsy has a seizure during their exam and are unable to complete their exam as a result, there is no provision to resit this exam within the same cycle. Instead, students with epilepsy will have to wait a year until the next cycle to retake their exam. 
This is an extremely disparaging situation for a young person with epilepsy and we believe this has to be changed. You can read more about our calls on this matter HERE and consider contacting your local TD or Senator in support of our calls. 
#AdvocateForEpilepsy #EpilepsyWeek
See also - Irish public express overwhelming support for two epilepsy advocacy issues