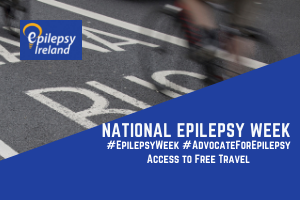 Today as part of National Epilepsy Week, we are shining a light on an issue which continues to impact people with epilepsy across Ireland - access to Free Travel.
Due to the nature of the condition, people with epilepsy can be faced with situations whereby they temporarily lose their driving license for at least one year or in cases, will never be able to drive due to their condition. Despite these difficulties arising from the their long-term medical condition - there is currently no provision to help support them with the extra burden which can exist with access to travel as they seek to continue their employment or education.
We have long campaigned that provision should be made for people in such situations to access a Free Travel pass and you can read more about our calls on this most important matter HERE and consider contacting your local TD in support of our calls. 
#AdvocateForEpilepsy #EpilepsyWeek
See also - Irish public express overwhelming support for two epilepsy advocacy issues