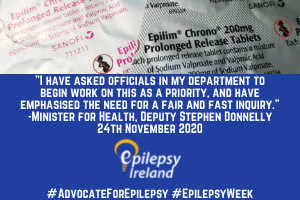 Today marks the first day of National Epilepsy Week and the first issue we are seeking action on is Sodium Valproate (Epilim). 
This is a longstanding issue where it must be acknowledged that a lot of good work has been done in previous years, but there is so much more left to do in order to get families the answers they deserve; to help ensure that no other family will be impacted by the devastating impacts of Sodium Valproate (Epilim); and to ensure that supports are put in place for families who have been impacted.
We will continue to work with our colleagues in OACS Ireland until all these matters are addressed but during #EpilepsyWeek, we need your help to #AdvocateForEpilepsy. Learn more about the issues surrounding Sodium Valproate HERE and consider contacting your local representative to seek their support in having these matters addressed. 
#AdvocateForEpilepsy #EpilepsyWeek