Epilepsy & Men's Health - with Peter Donohue & Shane O'Brien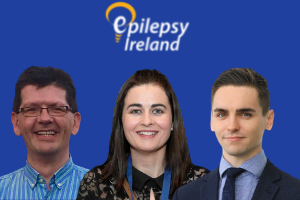 As part of Men's Health Week, we are organising a special event aimed at Men with epilepsy. Men's Health Week is an annual campaign organised by the Men's Health Forum in Ireland. The week aims to heighten awareness of preventable health problems in males; promotes a healthier lifestyle in males of all ages; and encourages men to be wary of their health and get checked if they feel an issue is presenting. 
Our event is aimed at men with epilepsy and we are delighted to be joined by Peter Donohue, Epilepsy Nurse Specialist at University Hospital Galway. Peter will talk attendees through the key aspects of managing epilepsy and lifestyle factors which can help to better manage the condition. 
We will also be joined at the event by Shane O'Brien. Shane is a Chartered Accountant and Senior Tax Manager. Shane will discuss his own journey with epilepsy and provide personal insights on living with the condition. Through our team of Community Resource Officers, we know that there can be hesitation amongst men in particular about discussing their epilepsy and we hope that Shane's contribution will help be a catalyst for some of those in attendance to consider speaking more openly about their condition with friends and family. 
Our Community Resource Officer, Edel Killarney will also be in attendance to let you know how we can support you with your epilepsy. There will also be an opportunity for questions, answers & discussion as part of the event.
We look forward to welcoming you to the event and should you have any questions about this event, please email Edel on ekillarney@epilepsy.ie.
WHEN: June 17th, 15:00
WHERE: Your home, via Zoom!
REGISTRATION:
To register, click
HERE.
Please note this event is for men with epilepsy living in Ireland.