Wednesday, October 7, 2020
In advance of Budget 2021 next week, our colleagues in the Neurological Alliance of Ireland (NAI) have published their pre-budget submission.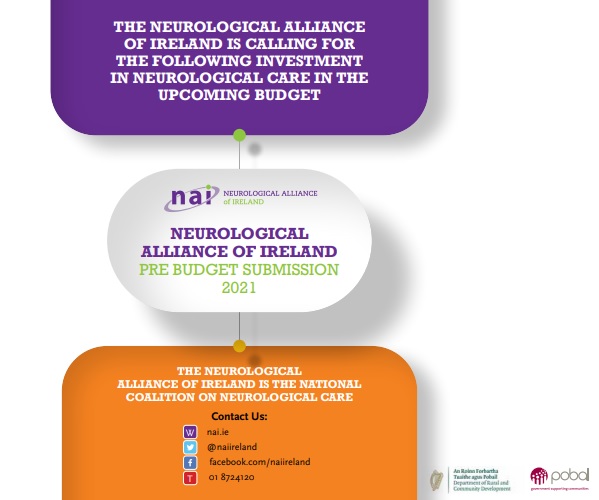 The submission has highlighted the funding deficits which organisations like Epilepsy Ireland are experiencing as a direct result of the COVID-19 pandemic while also noting that state neurology services were stretched before the pandemic and face even greater challenges now as a result. 
To address these two specific points, the NAI are calling for the following:
1) Establishment of a special fund to meet COVID-19 fundraised losses and elimination of deficits among Section 39 providers of neurodisability services, as called for by the Disability Action Coalition and other umbrella organisation.
2) Investment of €3.3m in Neurology Services to address critical understaffing in neurology services leading to the highest ever waiting lists now exacerbated by the COVID-19 pandemic
In addition to this, as part of their pre-submssion, the NAI have also reiterated our calls for €670,000 in funding for epilepsy services to deliver on a commitment to ervices for women with epilepsy. Commitments were made in 2018 to resource and implement the National Epilepsy Programme's 'Women's Health in Epilepsy' project are fulfilled in their entirety which included a consultant post, six adult ANPs and one paediatric ANP, a data manager, administrative support and funding to develop the Epilepsy Patient Portal and the Epilepsy & Pregnancy Register, at a total cost of €1m per annum. The consultant post and five ANP have yet to be recruited (€670,000). The recruitment of these nurses are vital to ensuring that women and girls are educated on the impact of Sodium Valproate - see more here.
You can read the NAI's pre-budget submission in full here.
We support the NAI's calls and hope to see these issues addressed within next week's budget.
Can you help with #RW2020?

.